Did you know only 54% websites on the web is currently written in the English language?
No doubt, English is the biggest language, but everybody is not self-assured in English.
Do you want to populate your website with content in the English language? It is very hard work, and you will still be missing out a lot of visitors or readers because they can't enjoy your site due to the language difference. They could not be reading your content, buying your product, and not easily signing up for your services and much more.
So what to do?
You can't write same content in different languages and post on your site because it is not an easy work. So, simply you can get help from these WordPress language translation plugins that enable you to generate multilingual content on your website.
You can Read this week WordPress Recommendations:
Today we are continuing to look at 6 Best Language Translation Plugins for your WordPress Website translation.
1- WPML – $29 – $195

WPML is a most important and premium WordPress plugin for translating your website in multilingual. By default, 40 languages are added in it, and you can also add language variants, using the language editor.
WMPL comes with three pricing plans:
It can take care of your Multilanguage management and link your site to professional translators who take care of transliterating your content.
Apart from that, the plugin is available for e-commerce and supports multi-user translation.
Additional Features of WPML:
Offers 40+ language support
Translate pages, posts, custom post types, menu, taxonomies and theme strings
Outstanding support by the development team and active development
Translation platform confidential the plugin to get your comfortable translated, reviewed and edited by professionals
2- qTranslate X – Free

qTranslate X is well-established and most popular WordPress language translator plugin. It allows you to create different languages kinds in the same WordPress editor, making it very opportune to produce different translations of your website content.
Aside from that, a plugin is set up that language switching on the frontend transpires without extra server requests.
Additional Features of qTranslate X:
Support unlimited number of languages
Offers Translate widget titles and other customers fields via shortcode
One language for each URL
Customizable language switcher
Language specific sitemaps available for Google XML Sitemaps and Yoast SEO
3- Transposh – Free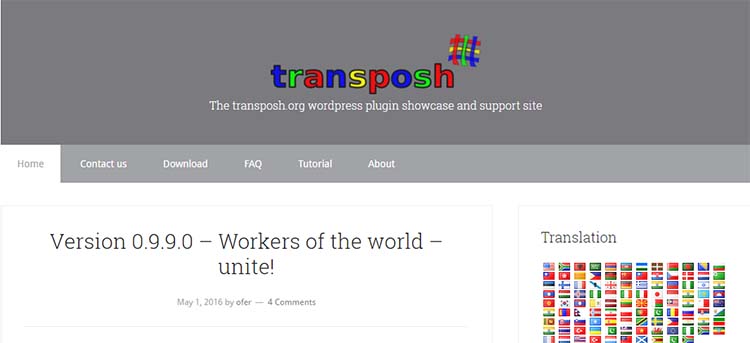 Transposh is the best translation plugin available for your WordPress website. It is provision machine translation, but different other plugins are permitted visitors to your site to make edits to non-English language text.
Transposh is a plugin that comes packed with 73 languages.
It is a customizable plugin, and if you don't want to enable users to edit translations your site content, then you can select who you has permission to update translations.
Features of Transposh:
Support for 73 languages
Easy drag and drop interface for selecting languages
Multiple options for widget appearances
Automatic conversion mode for all content
Automatic translation can be activated on reader or side owner demand
Translated words are searchable
4- Multilingual Press – Free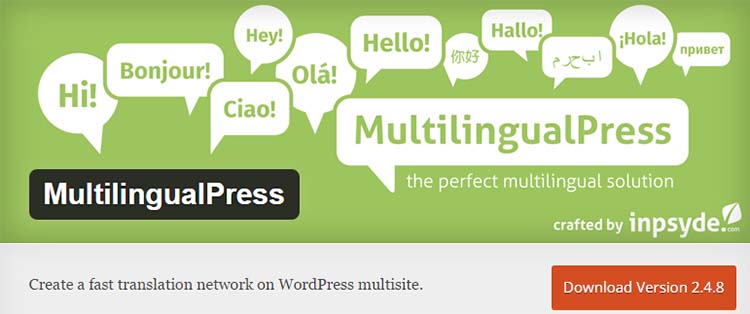 The Multilingual Press is a customizable translation plugin that you can install in multisite.
Typically you need to get a connection with multiple sites and running on your site before you install this plugin. Set a language for each site, create the link and start writing.
If you are not keen on using multisite, you might want to check out other translation plugins.
Once you do get it up and successively, multilingual press mechanically generates duplicates of your pages and posts in other languages you stipulate.
It also offers the premium version with substantial support. You can save your time and get right developers support for the plugin.
Features of Multilingual Press:
Support 174 editable languages
Set up extensive site relationships in the site manager
Translated pages, posts, and taxonomy terms like categories
SEO-friendly URLs and permalinks
User specific language setting for back-end
Automatic hreflang support
Shows posts with partial translations in a dash widget
5- Polylang – Free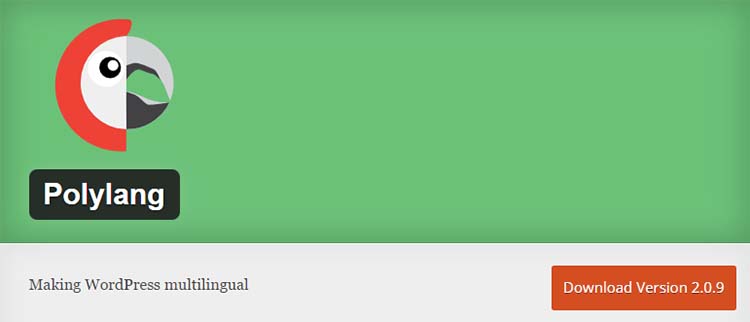 With Polylang you can build a multilingual WordPress website. It is entirely free plugin allows you to make your website more attractive for the visitor by offering different language translations.
Aside from that, Polylang enables your users to select their favorite language from their profiles and download the respective WordPress languages packs.
It works with almost all WordPress themes and fully supports RTL languages.
Features of Polylang:
Translate pages, posts, media, post tags, menus widgets, and categories, etc.
Support RTL languages
Offers multilingual admin support and every user can set the WordPress admin according to own profile.
For additional features you can select pro version of Polylang – price plus additional features:
6- Babble – Free
Babble is the best an autonomous multilingual plugin for WordPress site. According to developers, it is one of the best fastest language translator plugin and simple to download and setup.
It displays two versions of the WordPress visual editor. One of the original content and seconds is a blank canvas for you to rewrite the content in another ideal language. It is an automatic translate plugin.
Features of Babble:
Optimized interface
Automatic translator support
Offers unlimited languages options
Designed for faster sites and fewer queries
Core compatible
All in all, I'm sure this list will help you and you can easily find the best language translation plugins for your WordPress website. If you are already using any plugin, please share your experience with our reader and told them if
Related posts