We all of us know that every business build for profit and owner set their goal that increase their profit from different sources. There are a lot of ways that helps the business owner to increase their profit. One of the best ways to increase your profit is that your analysis your customer behavior through analytics tools.
You can use top-notch business analytics tools for the best effective business analysis. The market analysis shows the client's interest in your products or services, and you can set beneficial goals that increase your profit.
In the advanced world, you can find the modern analytics tools. All programs vary in structure, price and user interface. The tool is superlative for your needs that may differ, contingent on your goals and creating the final decision a task.
The business analytic tool goal is to analyze data and find the actionable and commercially relevant information that you can utilize to increase your performance or results. Due to a lot of analytic tools available, it can be tough to know when and what to use.
I know it is helpful to look at some of the key analytics tools in use today and the way how you can be utilized in your business. Below you'll find a collection of business analytics tools and their information.
Hotjar is an advanced analytics tool that is very easy to use and understand. There are no hard and fast rules to utilized Hotjar for the analysis of business. With the help of Hotjar, you can actually understand the web and mobile site visitors. You can also know what users want, care about them and upload their interest on your site – increase your profit. Michael Aagaard said about Hotjar:
"Hotjar is utterly delightful, so many research tools in one bundle make life so much easier for me."
You can use its free trial and receive remarkably accurate data. You can make your future goals that build your profit source more and more.
2- Viva Report
Viva Report is a very helpful tool and not only best for understanding your digital channel and website statistics, but it can also support you in moving your site information into a more well-organized path. It is very advanced, but straightforward and easy analytics tool that is mobile and desktop friendly. You can easily share its statistics with your colleagues or other team members.
Viva Report is a free analytics tool that gives knowledge that is the key to good business and helpful to make relevant decisions. It is the best service that designed for you and you can get all online statistics in one place. Viva Report is a big company that has above 3,000 satisfied users from over 20 countries. You should try too!
3- Kaboola
Kaboola is an analytics tool that easily blends your data from CRM, support, Mailings, web services, social networks, internal databases, and you name it. With the time-saving advantages, you can get all business data in one place. Other than that, Kaboola permits you to abstract necessary data through customizable and pre-made modules in short time.
Google Analytics is a paramount business analytics tool. Most business owners use this tool for the daily, monthly or yearly analysis of their business. It is a tool of Google that offers a lot of analytics possibilities.
With this analytics tool, you not only see the visitors but also see how and why visitors come to your site. Furthermore, you can see the add impression on your site. You can measure your advertising ROI including video, social networking sites, and apps, etc.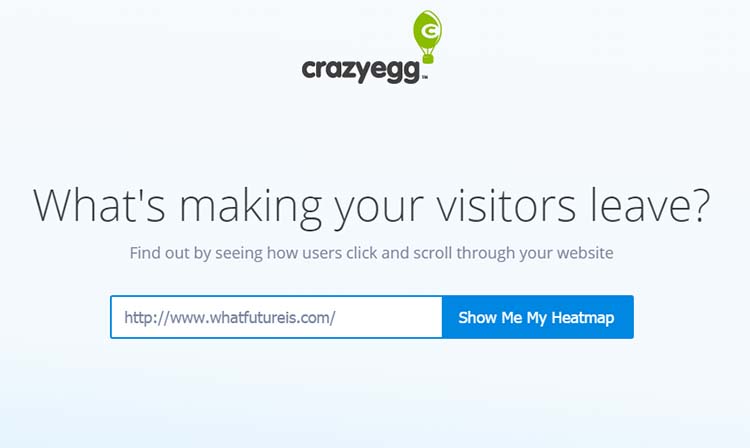 It is a very active analytics tool that provides you many different and helpful features to analyze visitors' activities on your blog or website as well as heat maps, useful visions and the hot spots on your site. If you want to improve your business at the high level, you can use Crazy Egg analytics tools to grow your business. It has an easy set-up and offers 30 days free trail.
Crazy Egg is work like a pair of x-ray glasses that tell you what your visitors are doing on your websites. It shows the different results where people are clicking and where they are not clicking and how many people scroll down your pages. How many people are coming from the home page and who clicks on reading more?
6- Decibel Insight
Decibel Insight is an analytics platform that shows the people behavior with heat maps, session reply, scroll maps and CX Analytics. It was founded in early 2014 with the simple goal of delivering.
Decibel Insight is best for analytics and also removing the space between the web analytics and website optimization. By using this analytics tool, you can make dynamic changes for the betterment of your page.
Google Fusion Tables is another Google analytics tool that allows you to visualize and analyze your business data quickly and easily. This analytics tool is so simple and easy to use as compared to Google Analytics. It also allows the use of maps, charts and infographic customization that is based on your data. Other than that, you can handle the collected data and also merged, shared quietly and more efficiently.
Zarget is user-friendly and strong conversion optimization software for marketers that help them for A/B testing, heatmaps, scroll maps, click maps and pipe analysis. With this analytics tools, you combine the power of multiple-site optimization tools for a unified experience. It offers you authority to handle all process with one single tool. Zarget has own Chrome Plug-in. It is very simple to use you don't need any coding experience. You can try this analytics tool entirely free.
9- DTREG
DTREG is a powerful house that designed for a large amount of data. And it characterizes itself as "a predictive modeling service." This is a robust app that is installed on any Windows system quickly and reads CSV (Comma Separated Value) data files that you can easily create from any data source.
DTREG do all of the work of generating a verdict tree, K-Means clustering, Support Vector Machine, Linear Regression, Linear Discriminant Function or Logistic Regression model.
10- Compete
Compete is a measuring digital performance tool that measures your site performance for 15 years. This analytics tool is not only for measuring digital performance. However, it allows you to analyze your competitor's done forward-thinking methods. By using this analytics tool you make your site better and set your future goals according to customers' interest.
Related posts