I just say, there are unlimited unknown things that you'll face when you are starting a brand, company or business. It is a reality the selection of the proper business name is not easy because you want a business name that has a good meaning and also memorable. But sometimes a fresh idea can be challenging, and it often feels like all good brand names are already occupied.
In this advanced world, you don't take tension because there are a lot of things that help you to start up your business with the beautiful name and helpful tips to create or run your business. Luckily, you are not the only person, who has the facing problem to building a business or the new brand, while all individuals were facing this issue who want to start own business. For your comfort, we have collected the best business name generators in one place (What Future Is).
Try one of the ten tools that will describe below and save yourself and also save your time. These business name generators that can help you brainstorm thinking imaginatively and break done the cerebral block to find the best available name for your business.
1- Shopify Business Name Generator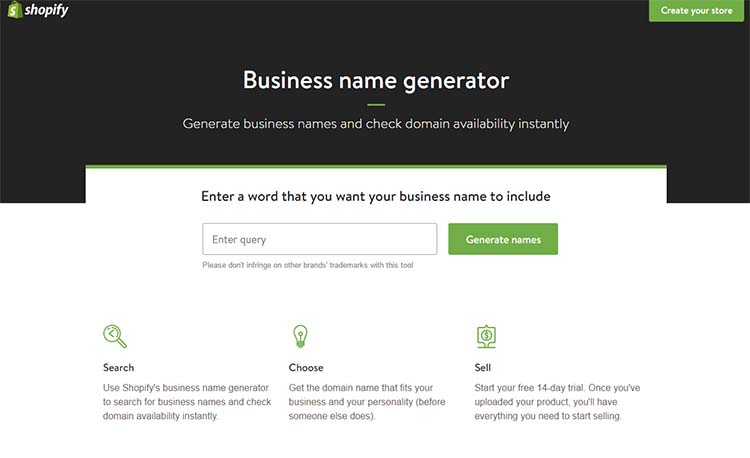 Shopify is a Canadian company and also a big eCommerce platform that offers you advanced options for building and creating an own eCommerce website. In the internet world, almost all business owners love to use the Shopify platform for the online business or shop. It provides a lot of facilities, services, and tools to manage the website.
Business Name Generator is one of the most impressive and helpful tools of Shopify where you can find your dream business name easily. It is a free tool from Shopify where you just enter an industry relevant keyword and select the best name from the results.
Business Name Generator is a picture-perfect tool for you if you are looking for a short bit of build stimulus and possible brand name.
Read About: 15 Best Responsive Shopify Themes
2- Name Mesh
It is a tool that mainly focused on startups – new businesses looking to be the following big thing. You can find the different results by adding the various keywords in a single search. You will see the brainstorm Business Names that related to your keyword after clicking the enter button.
You'll have the option to select the most beautiful, suitable, standard new, short, similar, mixed, and SEO related categories of ideas.
Read About: Shopify Vs WordPress: Which is Best for Ecommerce
3- Lean Domain Search
It is another tool that helps you to find the excellent and beautiful name of your business brand. It is a very secure website that matches your keyword with other words and generates a list of available domain names.
After that, you will possess the option to select a most familiar name, as well as choose whether you famine the results to start or end with your keyword. For example, we find the domain name related to accessories. We get a long list that shows a lot of names available with starting and ending of accessories word.
If I were starting a business of accessories, this would be helpful and a great starting point to select the name that also had the best match with my business.
4- Go Spaces
Go Spaces is a fantastic place where you can find the official new domain name related to your brand or your keyword in very short time. With the help of Go Spaces, you start your business by building an excellently designed landing page.
It is an easy tool to generate a name of any company or brand. If you find that you want, quickly register the domain and start working on it.
In the from now on a picture you can see, I add the word fashion and 181 domain name it shows. It is the simple and perfect tool for finding the perfect brand, business, or company name.
5- Cool Name Ideas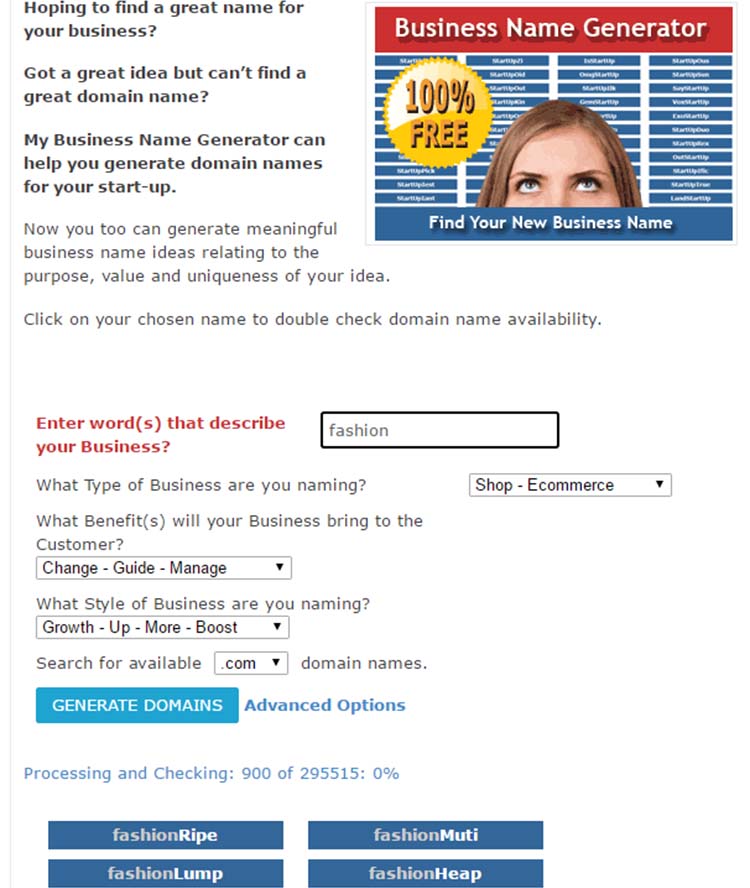 Cool Name Ideas is a Business Name Generator Company that has entirely focused on helping you find the perfect name match for your company. Other than that, you will find useful tips, advice and even different kinds of name generators. You can use it for finding the excellent and suitable name of your blog, domain, business, and products, etc.
Read About: Top 7 Futuristic Fitness Gadgets you Should Know
6- Dot-o-Mator
By adding begging and ending categories suggestion, you can create your domain name. Enter one word or two words in the left box and select some endings. After that click on the combine button and see the result with a list of available domain names.
If you find the name that you like, you can save it to Scratchbox and keep searching. For example, I selected the word game from the beginnings and selected the Tech from the endings column and see the 37 domain names that are available.
7- NameStation
It is a good business name generator that creates applicable name ideas, and keyword suggestions provide search guidance and name variations that are based on your search. First of all, you enter the keyword that is described your business or company and then select the business or category that greatest fits your business. After that NameStation will generate a list of suggested and available domain names.
It is free, but it requires registration to use its services. You can help others by selecting a business name, and they can help you.
BrandBucket is a good site for a creative business name. It is a significant tool of name generator that already offers more than 39,376 titles created and also generated. When you add keywords, you will be able to select the domain name from three lists: all invented and keyword.
Brandroot already generates 11,422 business names. Most people like their suggested business name and also utilize them. You can search your company name by keyword and category. The Brandroot site is very straightforward and different site from the other sites because the names available for browsing are already created.
In the above picture, I found the car business names by adding the car as a keyword and get a list of different domain names.
10- Domain Hero
Domain Hero is another business name generator tool that worked similar to Brandroot because it also already created the domain and company names. It focuses on generating a business name for advance, fresh, and new startups that dream big. Here you can find a unique and meaningful, ready-to-use brands or company name for your new business start-up, blogs, app, and product, etc.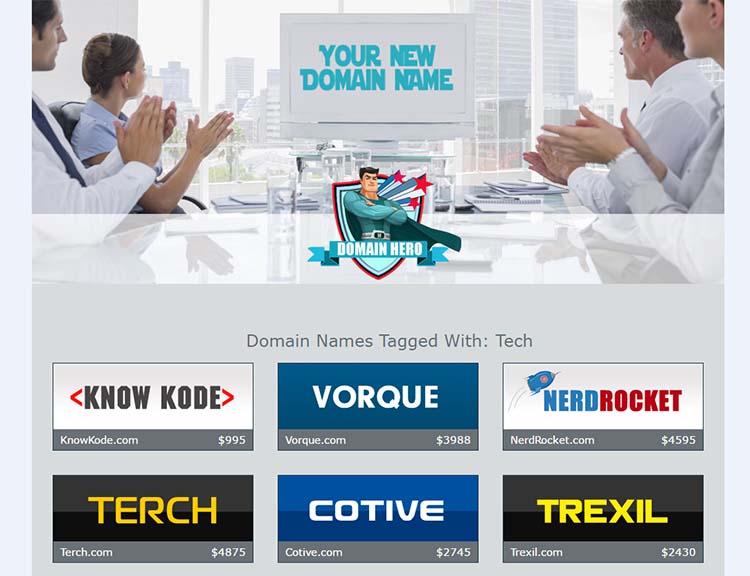 Conclusion
All in all, the above business name generators will very helpful to start up your business. And gives you some excellent ideas and insist you take an extraordinary step at the beginning of the firm. The first step is the separation of the business or brand name that makes your brand more attractive and zenith you. You can practice one of them for your business name; all are free and helpful.
If you have another business name generators that you like and found. It helpful and I have missed here, you can share with us in the comment box. I'll appreciate it and add it to the list.
Related posts