7 Best Infographic Generator Tools
Olivia, 7 years ago
7 min

read
748
Infographic is the very remarkable and efficient way to describe the information. Nowadays, most people try to use the infographic to display their topic in short and appealing way to readers.
I always enjoy looking infographic of other people, but always feel like there is no way I could create an own infographic.
But now it is.
An infographic generator is quite straightforward and helpful when you want to create an infographic for an own blog. I've compiled seven best infographic generator tools that help you, and you can create infographic within 30 minutes.
No doubt infographic is an excellent way to present your data and message to your readers.
What are infographics and why should you use them?
Typically, it is a visual media that represent your data or message to your readers in a more appealing way.
If you think as I thought about infographic, it is very tough work, but it is not and a very easy to make due to online infographic generators. You can create an appealing infographic by using online infographic generators within few minutes.
The most challenging work in the whole process is data collecting.
You know the benefit of an infographic? – No.
It's okay. You can make your post or article more attractive, shareable and appealing by using infographic. It can also enlarge your audience and blog traffic.
How to Make Own Infographic

The first step of infographic making is to collect data related to your topic, might be it is a very hard work, but it is the major part of this.
Next, you need an infographic generator to start making your design. I've added a list below.
Finally, you insert your data into the template, make any necessary pinches in your design, and you're ready. The first time might be you don't make the better infographic, and later it will get better and better.
"Practice makes a man perfect."
After completion, you publish it on your blog and share with the world on social media.
7 Infographic Generator Tools
1- Canva – Free
Canva is an effective online free infographic (image, eBook cover, blog graphic, and desktop wallpaper) maker tool that is easy-to-use. It also allows you to make all design tasks from brochures to presentations and much more.
You can get a huge library of icons, images, fonts and features. It also allows you to buy some features like pictures and photos. It's paid plan starts at $9.95/month.
But it's infographic generator you can use free with hundreds of free design elements and fonts. You can use it in the browser or download the Canva iPad app to design on the change.
Some beautiful templates that Canva offers:
When you choose the template, Canva provides a lot of options and the vast library of an element. You can upload your data and add your image. Now you've own infographic.
2- Venngage – Free
Venngage is good infographic generator work similar to Canva. With Venngage you can quickly make own infographic and publishing on your blog. It offers you a big amount of templates, themes, charts, and icons as well as uploading your own images and background. Simply it is entirely customizable, and you can handle it according to your desire.
In infographic section, you'll find extra options to choice from that incline to deal with particular topic and categories of infographics like:
Informational
Process
Timeline
Tutorial
Statistical
Geographic
Charts
Surveys
Sales and marketing
Education
Resume
Here are some templates simple from you choose your favorite one and start your infographic.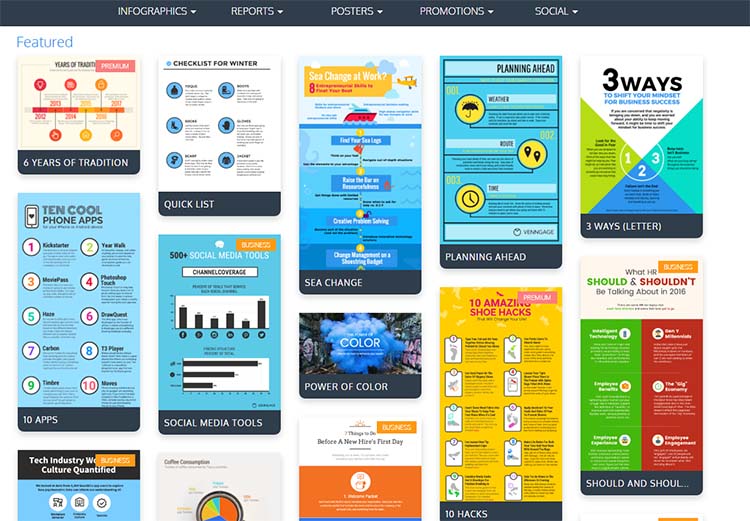 After selection, you can customize it according to your topic. It allows you to insert widgets, which can contain things like charts and maps based on the exact info and data you've for your infographic.
3- Piktochart – Free
If you want to get two benefits from one place, Piktochart is the best place for you because there you can get infographic and presentation tool. It allows you to add data into fetching infographics with just a few clicks.
It is the customizable tool where you can change color schemes and fonts, as well as you insert pre-loaded graphics shapes and images. Piktochart is offering just these three free templates.
After choosing the template, you can directly customize template then drag and drop your data, graphic elements in it. For additional and most charming models you can get its paid plans starting at $15/month.
4- Easely.ly – Free
Easely.ly is a best free infographic creating the way. It is really easy for you to create infographic within 30 minutes. It enables you a dozen a free infographic templates to start off, which are simply customizable.
In its free version, you can also get access to different libraries like shapes, arrows, and connectors lines. You can also customize data with color, fonts, sizes and text styles.
Easely.ly offers a way for you to find their template library by category. Below are some charming and appealing models:
Once you choose your infographic template, you'll be directed to a new window where you can easily customize your infographic with the variety of tools.
 5- Visme – Free
Visme is advanced and easy to use infographic generator tool. It enables you to create the infographic, animations, presentations, banners, and mock-ups. When you'll login in Visme account, you'll see your all projects, and if you haven't created any project, then space will empty. For the new infographic, you just click on 'create new Visme' and get the start.
After this, you pick a template according to your project, and you would be selected infographic because you use it for this purpose. In the template library, you will see some free and some paid model that requires premium account starting at $7/month.
Some templates as a sample display below:
Its tempests are customization with a variety of tools as well as animated objects.
"Visme made an immediate impact on our organization's data visualization and created more engaged conversations about internal programs and initiatives that were illustrated using the product." – Alex Kerr, Director of Marketing
6- Vizualize – Free
Vizualize enables you to create free infographic resume. It is a different infographic generator tools as compared to other devices are described in my list. Once you log in, you can begin creating your infographic resume. Apart from that, you can connect with LinkedIn to settle some of the info automatically.
At the left side of the dashboard, you can pick the theme according to your requirements, as here you can pick the infographic resume theme, styles, colors, fonts and much more.
7- Infogr.am – Free
Infogr.am is a great tool offer you access a huge variety of charts, maps, and graphs plus uploading pictures and videos that make your infographic more fresh and attractive.
It customizes data in an Excel style spreadsheet, and you can easily be edited, watching the software automatically change the look of the infographic to represent your data correctly. When you have completed your infographic, you can share or publish it to the infogram site for all people.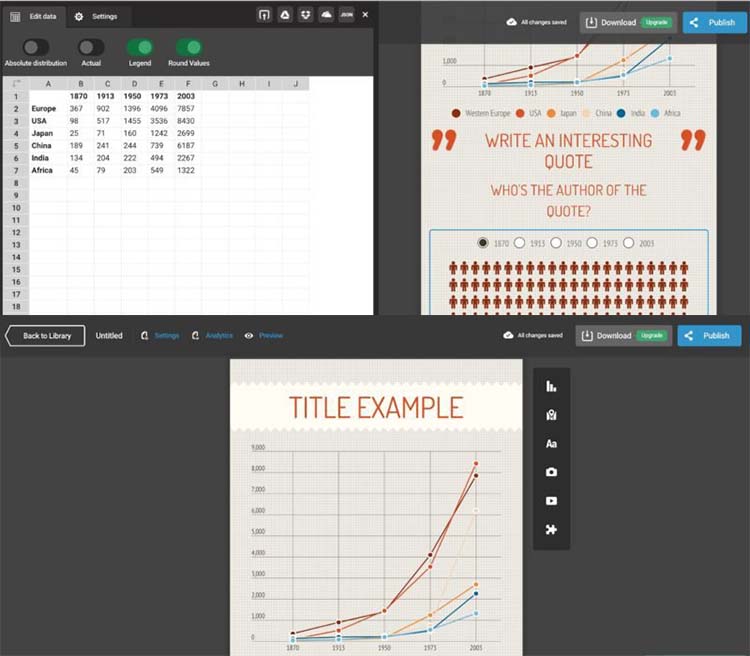 It offers simple templates some of them are displayed below for sample:
After the selection of a template, you can edit the elements on the page. When you want to deal with statistics infogr.am is the best option for you. It is the little bit harder to use.
Infographic Sharing Tips to Social Media
With the other benefits, the most incredible benefit of the infographic is that they are easy for sharing on social media. The fault is that they are not quite an ideal sized image for sharing.
It is best for Pinterest because Facebook and Twitter tend to favor horizontal or square images.
Wrapping Up
I find all the tools are easy to create an infographic with pictures, charts, and data. I'm sure you must say infographic creation is very easy nowadays. These tools will help you in creating your own infographic.
Which one is your favorite tool that you use for the infographic? Have you used different infographic generator tools?
I'd love to read about your thought and information, so please share your thoughts in the comment box without hesitation.
Related posts