Have you decided that you create a blog?
Great!
When you decide that you must know what is the first step of this journey – you don't know?
OH, it's ok – I know domain name selection is not very easy to work, but I'm here for your help.
If you take the first step of blog building journey, and you will decide the domain name. There are a lot of domain name generator tools available in the internet market. All tools are very easy to use and beneficial too.
Today, I've compiled a list of highly recommended six best domain name generator tools that will help you to find the best domain name according to your keywords.
A good domain name is a highly important decision and can help you to build a brand that will save your name in your clients or readers minds.
What Makes a Great Domain Name?
Short
Simple and meaningful
Easy to remember
Related to your market
Try to go a .com extension
Don't register EMDs
No dashes or lines
Why is Domain Name Important?
Domain name is the most important pieces of marketing, and most of your visitors will see. A good domain name leaves a substantial impact on visitor mind, and a bad one can cause alarm.
Your domain and business are a significant part of your overall brand. Likewise, although a contentious topic among the SEO community, domain names and domain extensions may be an issue in Google's ranking procedure, helping you rank well for the search term in search engines like Bing and Google.
List of Domain Name Suggestion Tools
If you are tried to come up with a great business name on the market that has an available domain, you know it can be enormously challenging. One simple way to decide good domain name is to go for branded or keyword-rich domain name.
Branded names are very helpful to create an attractive domain name which is easy to remember. Don't try to select a name that is hard to spell and type.
So, let's drive to a handy list of 6 best domain name generator tools that will help you to find the best domain name for your new site.
1- Shopify Business Name Generator Tool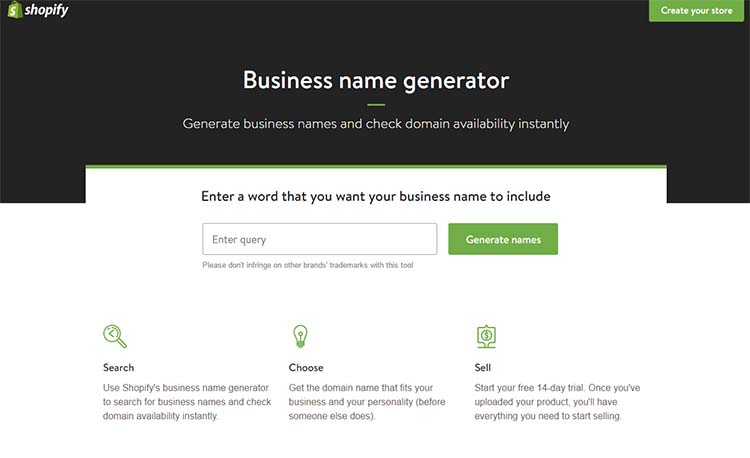 Shopify is a big platform for launching your eCommerce shop or website. Shopify also has a business name generator tool that will help you to build an appealing and meaningful domain name for your business.
If you want to get the domain name in .com extension, then you must visit Shopify domain name generator tool. It always delivers available domain name ideas which work fastly in the market. The site encourages you to generate a Shopify shop by using the domain name they have suggested.
2- Domainsbot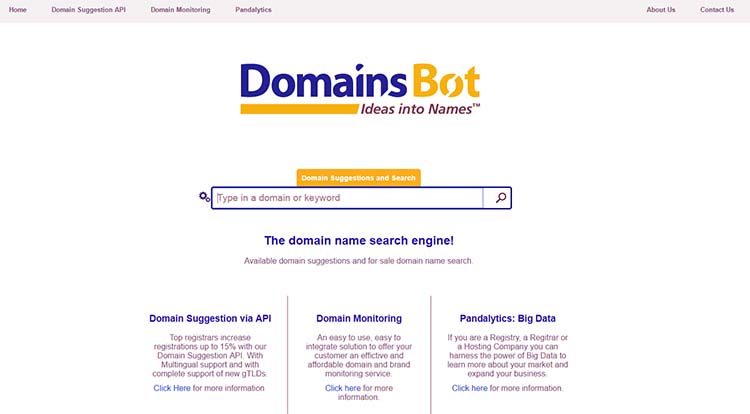 Domainsbot is an uncomplicated domain suggestion tool that helps you and generates domain name by using your keyword. The most impressive feature of Domainsbot is that when you search for any keyword, it also finds the domain listing from SEDO and Godaddy with price detail.
This can be helpful in picking the best keyword-rich domain name for your new site. Most people said Domainsbot is a perfect domain name generator tool. It also has the possibility to register them, and it suitably shows if they are either accessible or taken. So there is no need to you another tool for checking the availability of the domain name.
3- DomainIt Tool
Domain Suggest Tool allows you to generate domain name with different extensions including .com, .cc,TV, .net. By evasion the grown-up name suggestion is off; however, you can turn it on.
4- BustAName
BustAName is best domain search tool help you find domain names. You can find domain name with these extensions .com, .net, .org, .info, .biz. You just enter the keywords that best describe your website, and it will show you all best domain names by using these keywords.
Once you achieve a domain names list, you can sort them alphabetically, and rank by quality. You can bookmark domain name you like for later.
5- Panabee
It is a quite easy and fun to use.
Panabee is a domain name generator, business name generator, and domain name search tool. You can take the start of just two keywords and automatically it generates a huge list of domain name suggestions. When you find your desired domain name, then you can visit Godaddy and view this domain name is available or not.
If you don't have any idea what you want, Panabee will deliver related terms you can search for. When you find you require the domain name, Panabee also shows you the result if this domain name is being used as social media username.
6- Impossibility
Impossibility is a different name generator tool on my list. It also works differently as compared to others. It takes to start with your keyword; then you select to add adjectives, verbs or nouns to the beginning or end of the keyword.
You can easily perform it and also decide between 4, 5, and six letter options or just resolve to mix anything with your keyword. You'll come away with a lot of fun and excellent ideas. If you find your ideal domain name, you can purchase through the links at Godaddy.
I'm sure; above compiled list of the domain name, generator tools will be very helpful for you. By using them, you can find the best domain name for your next blog.
I'd like to hear your favorite generator name that you have found helpful for finding superiority obtainable domain names.
What do you say about this post? If you find it useful, then please share it with friends and colleagues by using social media.
Related posts