Everybody knows SEO is a necessary for running a successful business and for its zenith. There are one hundred one things you can attend and apply on your blog related to SEO, so that, make it awesome.
If you want to increase your sale or ranking, you must focus on your SEO. It is a thing that makes your blog or shops more profitable within the very short period. But, don't overlook that is without keeping it on top of the subject matter and learning all the new procedures and updates.
SEO can be multifaceted; it seems like every day there is some new SEO strategy to be learned and get information how you can manage them.
A lot of business owners who know the importance of SEO, they spend the time to get information and knowledge about SEO and apply on their websites.
You'll be happy after reading this news.
There are just 7 SEO tools that can help you dramatically improve your website ranking, apart from that, your time and energy both will be saved by automating the process. Always try to find out those tools who are going to work cleverly and get superior results.
Here I'll explore some incredible 7 SEO tools you must say thankful for. I've used in business and have helped to generate a system that recovers our rankings.
1- Keyword Research – SEMRush (start at $69.95/month)
Nobody can neglect the importance of keyword research in SEO. Every expert must know which keywords are the best for their target. If you are not the expert, don't worry I write this article for you. But one thing keeps in mind if you don't know about the best keywords or which is related to your topic is harmful to your blog or shop.
So be serious and focus on it. There are many keyword research planners or tools some are free, and some are paid, below is some important:
Google Keyword Planner (free)
AdWords Display Planner (free)
SEMRush (not free)
Google AdWords and keyword planner both are Google tools that you can easily use without spending money. But SEMRush is another great tool you can use for keyword research by spending some cast.
SEMRush has many options that will help you to find the best keywords for paid and organic campaigns. You can find the best-matched keyword as well as most related keywords and also focus the all long tail keywords that can be ignored.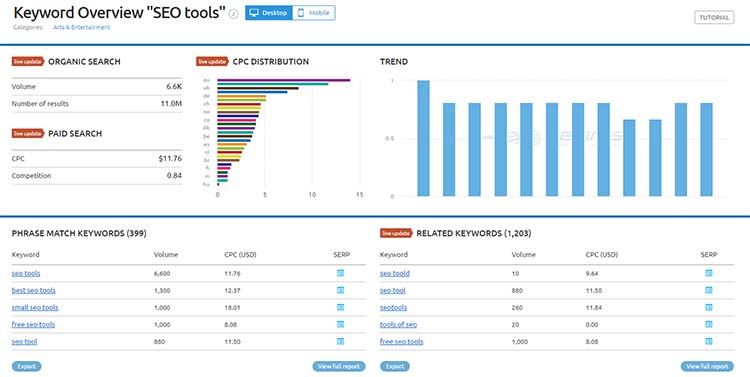 It has a 'keyword difficulty' tool that highlighted the keywords that have less competition. It also highlights those keywords that are extremely difficult to rank.
SEMRush is a best keyword research tool that gives you in-depth reports that other tools don't give you. Other than that, if you are searching a quick and easy tool that can help with basic keyword research, SEMRush is the best for you and must work according to your requirements.
Recommendation:
2- Ranking Analysis – Authority Labs ($99 to $450/month)
Ranking analysis of any website is an imperative part that you need to pay attention, but it is not easy work. It is very time-consuming and hard work.
The good news for you is that there are plenty of tools you can easily utilize to tracking rank of your website.
Google Search Console and Authority Labs both are good ranking analysis tools. You can easily use them and also the reliable tool for website ranking analysis. Google Search Console is a free tool offer a suite of options for SEO. You can use Search Analytics tool to find out where your websites are ranking.
Authority Lab is another paid tool for site ranking analysis. It offers you many suitable options for SEO. By using Authority Lab, you get your entire daily tracking results in one report, and easily you can see that how your campaigns are doing.
It is actually developed for Local SEO as well. Besides that, it has options to track results based zip codes and contains Google+ ranking as well.
3- Content Intel – MozBar (free)
When you are operating on SEO, you need to be severe and active. It is not enough you just pay attention to your website, but it is also important you pay attention to your competitors what they are doing as well.
Different SEO experts use different plugin or tools for this purpose. But most of the experts consider MozBar is a valuable tool, it is true.
It is easy to use and also work quickly. MozBar is a popular Google Chrome plugin that will give you immediate and correct information on some key metrics of any site you are on.
Its free version works well for many websites, if you want to upgrade your Intel with the best information, you can buy its pro version starts at $99/month/. MozBar has a lot of features will help you progress your own SEO by amassing vital Intel. Some of the most famous include, data export, custom searches, social metric tracking and on-page accent to check exact types of links.
Some SEO experts say that SpyFu is one of the best competitor Intel tools out there. Utilize it to track competitor's keywords that can help improve your own strategy. It is also a paid tool, and its pricing starts at $79/month.
4- Content Optimization – Yoast (free)
If you want to rally your website ranking and see some SEO wins immediately is to optimize your content. Most people don't focus and understand that they are missing some chances on their home pages and inside blog posts.
In the web world, a lot of tools help you to finish all mistakes. But Yoast is a fantastic WordPress plugin that is the go-to tool for SEO on blogs and other websites. It is reality; Yoast is the #1 WordPress SEO plugin and also beautiful to work precisely.
Yoast is easy to use and allows you to pick a right keyword for each post and create a suitable Meta tag. It observes the content itself to let you know of any probable problems and probabilities to improve.
5- Link Building – BuzzStream (starts at $24/month)
Link building is a paramount component of SEO. Some ways are available in the market to get the approach to link building. Unluckily, most of the small businesses just don't have the time to offer it effectively.
These companies must wish a tool that can make this process almost automatically. BuzzStream is the best tool that makes link building process almost automated and saves your time and effort.
It was built to let you easily find and attach with influencers to generate relationships with people and products that will get your site located on superiority sites.
With BuzzStream you'll search for and can do all your outreach and possible link building in one place. You can use it for creating the lists, contact influencers and preserve track of projects all at the same time.
We all know that broken link was a big issue when we were trying to improve their SEO. BuzzStream and LinkMiner are best tools that can help you to solve this problem. LinkMiner is a free Chrome Extension that highlights broken links, and you can be fixed.
6- Backlink Analysis – Ahrefs (starts at $99/month)
High-quality backlinks is a good player that playing good plays in search engine optimization ground. SEO experts say that when any website comes to getting the high ranking, it is vital to have at least a rare, high-quality backlinks into an own site that was pointing back to your site.
There are a lot of plans available in the market for backlinks analysis, but Open Site Explorer and Ahrefs both are essential tools most people use them. Here I'm exploring the two excellent benefits of Ahrefs:
The site has an average of over 12 trillion links
It is incredibly easy to use for such a powerful tool.
Ahrefs report shows you some particulars report on any backlink including the anchor terms that are being used for it. Other than that, it shows the ranking, referring pages, how high the backlinks are and the content is being linked.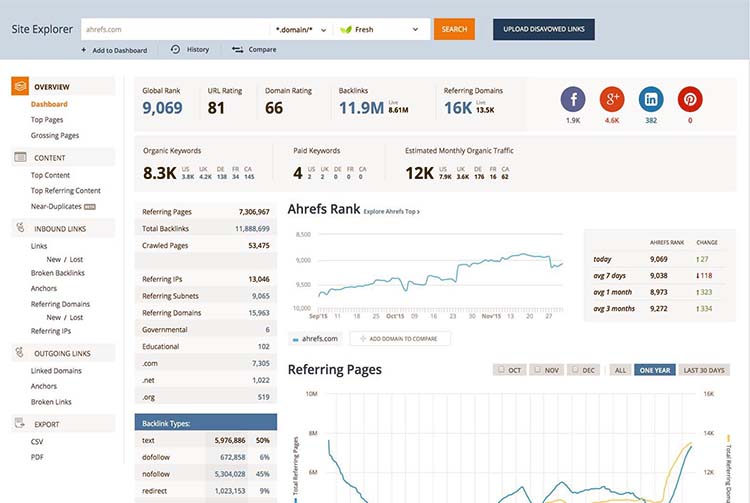 Also, it has an alert system that will report you if you have extended or lost a backlink on your own website.
Open Site Explorer in another tool that is linked with Moz pro bundle of SEO tools. It helps you find backlinks chances, discover possibly damaging links and also research backlinks.
7- Outreach – Ninja Outreach (starts at $49/month)
Ninja outreach is another tool that plays a significant role in search engine optimization. It is a big part of many successful brands' success. It is a tool that specially designed for this purpose. Outreach helps the brands or companies to find the greatest influencers in their particular market and then connect with them directly.
Ninja Outreach is that it gives you full detail information on influencers in one place. You can find their links to content they have social media shares, written and SEO metrics. Outreach data helps you who you can really give the own brand a boost.
Wrapping Up
Once we start to let on SEO, there are a lot of tools we can utilize and get help from them. It is reality all tools work well and bring your SEO to the next level. But mention over 7 SEO tools is excellent, helpful and time and energy saving instruments.
Did you find them useful? Have you another essential SEO tool? I'd like, you share your experience including tools with us in the below comment box.
Related posts