When you come to eCommerce platform, your website design plays a crucial role. It can make your site or break it. If you are eager to get the new site up and running as quickly as possible, the selection of right eCommerce platform is a necessary and also best site theme.
A lot of eCommerce platforms that offers various themes for online store or shop but Shopify is a brilliant platform for eCommerce shop and my favorite place. Because a lot of best responsive Shopify themes for 2016, you can find and select for an own online store. All responsive themes are entirely perfect for eCommerce websites. The Shopify shop setting is very easy for beginners and they can handle all their goods and payment.
Might you have to worry about the selection of the theme for your online store and adding your products? Shopify is an advanced eCommerce website solution and has a lot of beautiful and natural themes those are feature-rich. There is a bag of best responsive Shopify themes for your eCommerce sites. All theme's bag are great and sensitive that you can handle easily. Select the Shopify theme and templates for the next eCommerce store and make own beautiful shop online.
Shopify eCommerce Theme Features
With your blending brand if your online store should have excellent and good features that will make your shop site stand out and delight your visitors. When you are buying the Shopify theme for an online store, make sure they give you following features.
All Shopify themes are modern, clean and easy to customize
SEO-friendly, responsive design and cross-browser compatibility
Quality coding, great views and customer support
Due to the custom settings panel, you will modify the theme according to your liking.
You just need to set it up add your branding custom manufactured goods information and start optimizing for online sales.
Best responsive Shopify themes 2016…..
1- Brilliance
Brilliance is a professional theme that is a highly customizable where you can sell your products, dresses, accessories and shoes, etc. it is the combination of black and white colors. Other than that designer used narrow lines and serif fonts. Brilliance is a breathtaking and elegant Shopify responsive theme. It's very easy to handle at the backup and also SEO-friendly.
2- Time Craft
Time Craft is another Shopify responsive theme that is best for the company that wants to show off premium manufactured things for sale. Featured goods are also showcased in a slider. It is the combination of the great features including the admin panel, bootstrap, on-line chat and also a responsive that will quickly adapt any screen size the user has in hand right now.
3- Audio Gear
Audio Gear is a 100% responsive Shopify theme that powered by Bootstrap and designed for the mobile eCommerce platform with Google web fonts. When you click on it, shows the various website currencies, categories, and login search and checkout options in the sidebar. It has valid semantic HTML 5 code for your site and also SEO-friendly. Your site will also have better SEO ratings and make an impact on your visitors with faster page loading speeds.
4- Huge Sale
Huge sale is a multipurpose Shopify responsive theme that is excellent for those sites, which want a big online store with a large and versatile inventory. It is very good and its all categories are displayed on its homepage, rather than individual products. Huge has two narrow banners in the uppermost part of the theme that is the best place to promote your sale or new products and special offers with the help of countdown timers. It can be easily customized and replacing the logo with your own wish.
5- Clean Store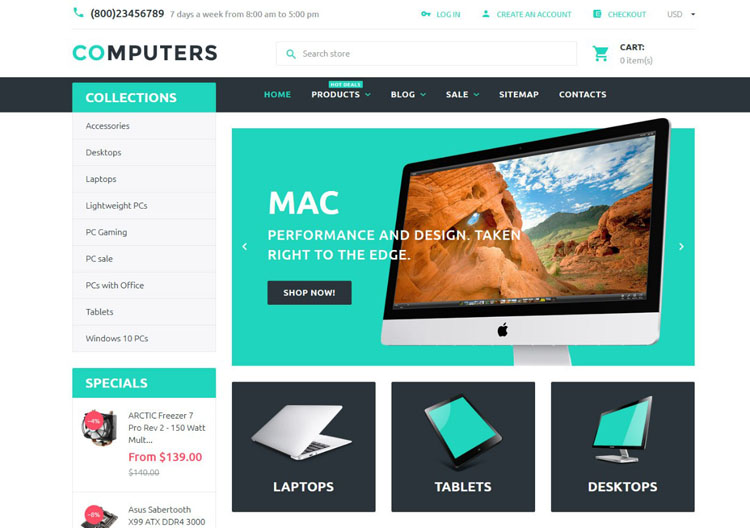 Clean Store is a best all-around responsive Shopify theme that completes your wish of selling the tech products via Shopify eCommerce store. It is a blog functionality that has the easy admin panel and on-line chat features that make it more attractive and favorite design.
6- Gift Store
It is elegant Shopify design that famous with a charming feminine look. It was designed for flower and gift online shopping stores and optimized for mobile devices. In this design, Shopify offers a soft light color palette jointly with flat design and bold exquisite fonts.
7- SimpleGreat
SimpleGreat is a multipurpose universal theme that is the totally responsive Shopify theme. This theme has the feature of the built-in blog for any kind of online shop with advanced design. SimpleGreat is a great theme that has powerful backend and it is designed by using the latest HTML5 and CSS3 features. The admin panel of SimpleGreat responsive theme offer easy navigation and dozens of pattern options allow you to change all in theme.
8- ELLA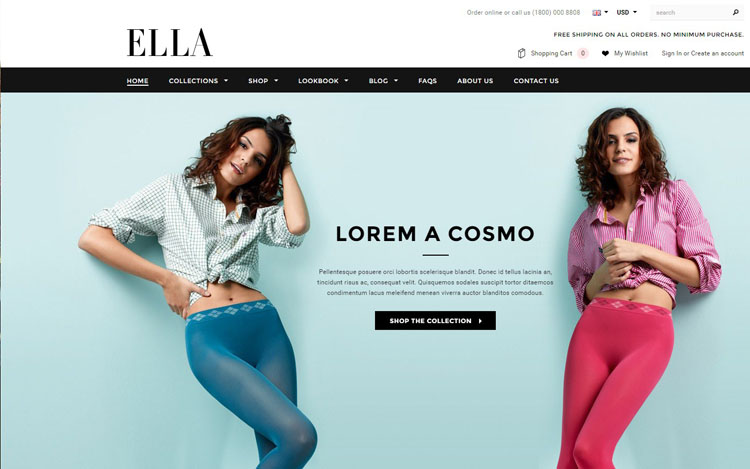 ELLA is a responsive theme that designed for the fashion and apparel shop where you can sell all things like the shoe, dresses, accessories, and many other things that are under the cover of this theme. It has a large banner where you can showcase your newest and hottest products that immediately catch your customer's hearts.
9- Everything
Everything is a great responsive Shopify versatile theme. This theme is designed with 22 other different designs those are suitable for any type of online eCommerce shop. It is a great kid's fashion store to a luxury watch store to a high-tech store.
The features of Everything Shopify theme offers a responsive design, mega-menu, advanced product filter, rich snippet support, multiple slideshows with different effects, customization options, and many others.
10- Hosoren
It is a stylish Shopify theme that is an elegant eCommerce theme specially designed for professional online shops. The features of Hosoren a beautiful image slider, two product styles and four portfolio styles, unlimited color options and the option to showcase multimedia content to go along with it. Hosoren is a retina ready, mobile-friendly and responsive theme that make your eCommerce site look beautiful and stunning.
11- Ap Alaska
It is a multi-responsive Shopify theme that is flexible and adjustable for any pieces of advice. The creation of this design is best for any eCommerce site and diversified commodities as fashion, shoes, bag, gifts Christmas and multi-store. It is a unique and responsive theme.
12- Bewear
It is a modern and clean design with collection and LookBook style, due to that your clients and customer will be inspired with your products. Shopify theme offers you 2 different styles LookBook, fully intended in details and wants for these kinds of subpages. You can also add nice pictures of looks to class header pages and request the customer to blog pages where he can take more motivates everything to make the client stay on your website and enjoy the time exhausted.
13- Jemiz
Jemiz is the creative and responsive Shopify theme that is best for fashion eCommerce website. The features of Jemiz features include color swatches on product pages, design, multiple beautiful, wish list pages, custom list collections, newsletter integration with MailChimp, responsive slideshows and a lot more.
It is also a customizable theme where you can change the color scheme and style the check-out and also customer area as well as upload your own logo.
14- Everest
Everest is a responsive Shopify theme that offers eight different homepage layouts and SEO optimized system. This design is best for any high-end jewelry stores to fashion and accessory stores. Everest theme offer profusion of customization options via the highly developed admin panel and the built-in slider is premeditated to put your products in the limelight.
15- Handy
Handy is a 100% responsive and easy Shopify theme. If you want to start an online store for the homemade products handy theme is a best for you. The features of  Handy theme like an out of the box layout configuration. That allows you to set custom layouts, mega-Manu. An EU privacy cookies, live search, video slideshow, MailChimp integration, and social networking etc.
The admin panel is very easy, and you can customize all the colors and change. The fonts all the way through the theme. Get your shop online with this beautiful Shopify theme.
Conclusion
First step of your online business is that you select the right theme. Because an online store is an exhilarating business venture. All themes are very excellent and responsive those make your business successful. Take a look and decide which theme is best for your online business.
Related posts