Every business website requires a live support service for customers or users. Every person wants a quick response for their questions or quires. Site owners' immediate support makes clients happy. Most of the online researchers or buyers prefer live chat support as compared to other forms of interaction.
Did you listen about ROBO before?
ROBO stand for "Research Online, Buy Offline."
Several tools are available in the internet world to better serve the "Research online". But today I'll share with you some live chat software that you can add to your website for the live chat with your customers.
Just think about it, a customer goes to your site and looks around and has some questions in mind about your site.
Did you know 67% people go to an eCommerce site and abandon their shopping carts without check out? Because people have a lot of questions but they don't get the answer. The result is that you decrease your sale.
You can cover this loss by using these live chat software. These live chat plugins are best for WordPress website and also easy to install and setup.
Let's walk to get.
1- Pure Chat – Price ($0 to $100 per month)
The Pure Chat plugin was designed with the help of entrepreneurs and small business owners' better conversations with clients and merchants. With this, you can make your brand handier with customizable chat popup that allows probable customers to reach your team rapidly.
You can update the language, message and look in the chat popup or present it as a button throughout your site. Apart from that, Pure Chat also lets you add a customer call-to-action at the end of each chat and customer can easily be driven to the next step in their purchasing journey.
Features of Pure Chat:
Increase Conversions
Engage leads
Provide instant answers
Protective chats & Triggers
Hosted chat boxes
SSL security
2- Click Desk – Free – $14.99/month
Click desk is a best live chat plugin for WordPress website. It helps you interact with your website visitors in multiple ways social media, voice call, helpdesk and live chat.
Click desk was designed by keeping these major principles in mind. It offers 99.95% customers uptime guarantee. It integrates you with other existing IMs like Skype, gTalk and much more, allow you to answer your live chat or calls on your mobile or desktop.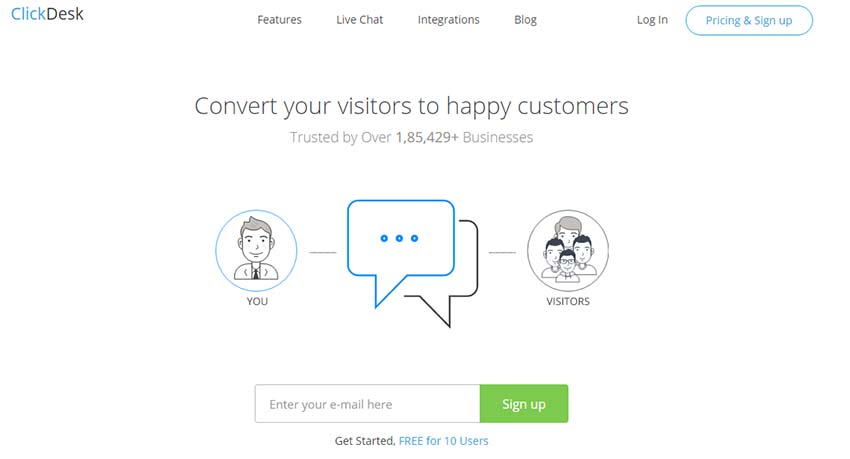 Features of Click Desk:
Operator on Skype
Visitor information
Offline support
Shortcut messages
Transfer
SSL security
Video chat
Social toolbar
Helpdesk
Mobile app for online support
3- Zopim – Free – $99.99/month
Zopim is now called Zendesk Chat. Zopim is a plugin let you've live conversations with visitors on your website. Due to this, you can start a good live chat with your customers or visitors within a minute.
It offers a lot of characteristics that give your brands a voice and meaningful relationships by talking to customers over live chat. It also provides the app for iOS and Android devices.
Features of Zopim:
Easy setup
One-time setup
Get a design according to your website
Fully customizable
Connection with your customers
Increase your sale
4- SnapEngage – $60 – $420 per month
SnapEngage live chat plugin gives service to all size businesses. They offer a comprehensive set of tools. Your clients include recognizable brands such as Hubspot, Wacom and much more.
SnapEngage has many advanced features with a callback request features, automatic chat invitations, and customizable chat doodads. It also offers a message to chat features due to this your clients can directly communicate with your team.
Features of SnapEngage:
Easy setup
Advanced chat portal
Customizable design
Mobile friendly
Power tools
Full security
Reporting & Analytics
5- Chat Room – Free
Chat Room is entirely free WordPress plugin that helps you to create a chat room for your users. Currently, Chat Room plugin is worked for those servers that have PHP file system access and might not be available in all hosting environments.
Users will just need to create an account on your WordPress site to join the Chat room. It is a public chat room and may not be good if your customers want to talk privately.
Features of Chat Room:
Free Chat room
Suitable for PHP file system websites
6- HelpOnClick – $19.99 – $29.99 per month
HelpOnClick team said, "We do our best to create the software that helps our customers easily talk to their website visitors."
HelpOnClick is one-step software for all your clients and sales support needs. It is very efficient software for small and midsize businesses. It is advanced software that helps you to track all conversations with your customers.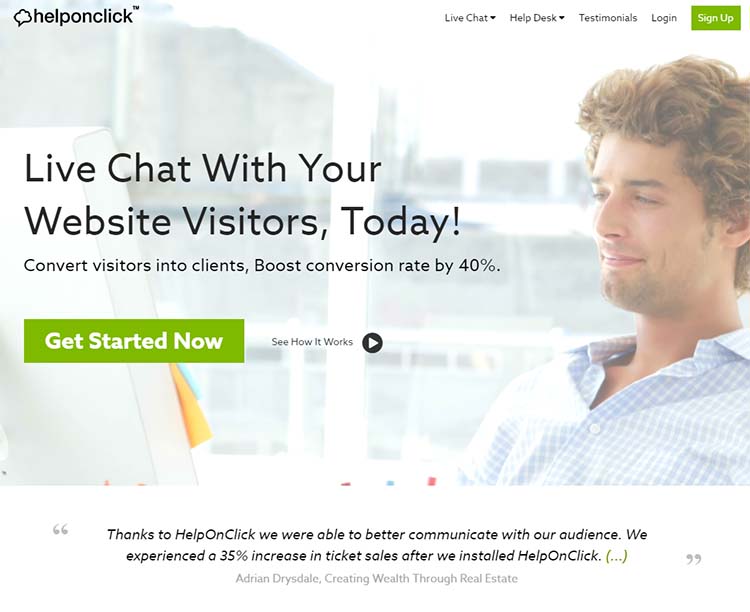 Features of HelpOnClick:
Copy and paste installation
Know where your customers are coming from
Proactive chat invitations
Manage multiple websites
Social media integration
Full security
Compatible with different platforms
Review the chat history anytime
7- Bold Chat – Free – $5/operator/month
Bold Chat is a wonderful way to engaging customers and also making support possible. It is robust chat solution that truly embodies their unique brand. Clients can communicate with consistent across all devices and channels.
Bold Chat plugin offers you full control and elasticity to decide yourself. It has enabled over 300 million connections amid people, devices, and kinds of stuff all around the world.
Features of Bold Chat:
Floating Chat button
Sale recovery technology
Auto offline and online
Omni-channels engagement
Mobile engagement
Live chat
Features checklist
Administration reporting
Integrations & APIs
I'm sure. Due to this list, you have found the best live chat software for your WordPress or Shopify website. I'd like if you tell me about any software that you want to add to the list, but I missed. Please write down in the comment box.
Related posts