The selection of WordPress plugins for social media is comprehensive work for a good website.
A lot of social media plugins are available in the market, but which is best everybody doesn't know. Some best WordPress social media plugins we have compiled below that you can try in 2017.
We can see and understand the importance of social media in our online and offline business these days. If you don't pay attention to your social media, you are probably ignoring a vast customer quantity.
You can say that social media is not the best place for advertisement, but it is a significant source of traffic for a blog.
For example, people visit your website and find something entertaining or informative and want to display it on their social media network. If you place social media buttons on every page of the site, then they quickly share your content on their account, and you'll get more traffic for your blog.
It should be calmer for us to find the best social media sharing plugin that fulfills all our needs.
The truth is that the right and useful social media plugin is below for you. I've mentioned some of my favorite social media plugins with some other plugins that will help you to make your website social friendly.
So, let's start a walk with us, without wasting time start a look at the best WordPress social media plugins that increase your fan following.
You will find some free and premium plugins.
7 Best WordPress Social Media Plugins
1- Social Warfare – Starts from $29/year
Social Warfare is a fully responsive social media plugin that offers fast loading and decorative customizable social sharing buttons for WordPress website. Fast loading social media button will increase your traffic because it doesn't affect the site speed.
By using Social Warfare plugin you can add above and below the post via shortcodes, even you can be floating share buttons.
One customer reported about Social Warfare a 300% increase in social media shares when using this plugin.
It also offers you an opportunity to upload Pinterest-specific image and descriptions. It will help any blog to drive a lot of traffic from the comprehensive image sharing platform.
This plugin gives you a complete analysis of the social data; it automatically adds UTM tracking to every shared link, and you can get the information easily how your social media shares are performance.

Features of Social Warfare:
Support for current social networks
Customizable
Sharable quotes
Show share counts only when above a specified number
Display Twitter cards account
Fully responsive
Display floating share buttons
Tracks social with UTM tracking code
Add custom tweet text for particular posts
Show share buttons with shortcodes
2- Monarch – $89/year
Monarch is a robust social sharing plugin created by the team at Elegant Themes. It offers you 20 social media networks icons that you can show on your website and customize them according to your choice.
With Monarch, you will be able to add social sharing buttons to five different locations on your page or post. You can add social media buttons on any page or post above/below the content area or both. It is fully customizable and offers a clean and modern design.
Features of Monarch:
Give 20 famous social media networks
Offers multiple display options as above / below the posts
Easy to use interface
Select when share counts are shown
Display Social media icons with shortcodes
Track social shares follow and like with analytics
3- SumoMe Share – Free
SumoMe Share is an easy social media plugin offers you 16 popular social networks for sharing your content on mobile as well as desktop PCs.
With its quick sharing buttons and lets, users place the content by using the drag and drop functionality too precisely on that part of the site where they want it to be showed.
For the additional features, you can get its premium version.
Features of SumoMe Share:
Easy to use
Offers 16 famous social share buttons
Choose different button placements for mobile device
Additional apps were available to grow your traffic, email list and shares.
Significant control over how share counts are displayed
4- Easy Social Share Buttons for WordPress – $19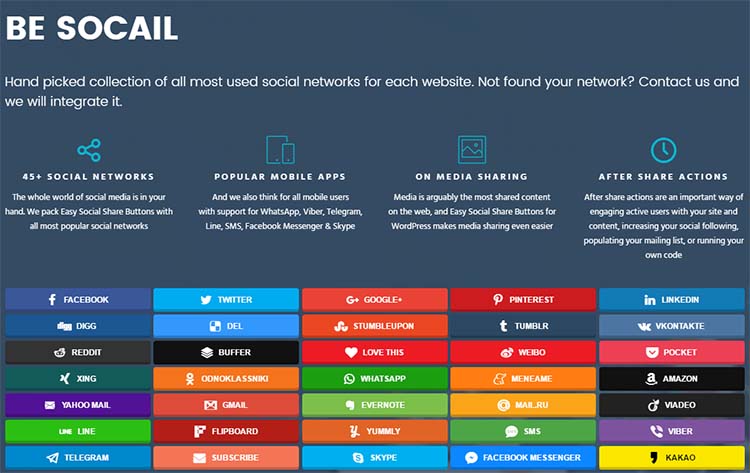 Easy social share buttons for WordPress is very best and features gorgeous packed plugin. With this single plugin, you feel a whole world of social media sharing is opened up to you.
Easy social share buttons for WordPress plugin is increased your shares, build your profile, following, and subscribers, even your traffic will grow. It offers above 45 of the large social networks, plus a vast range of enhanced mobile sharing options.
Easy social share buttons are packed with advanced features but have simple setup process.
Features of Easy Social Share Buttons:
5- Shareaholic – Free
Shareaholic is a WordPress social media sharing plugin you can use it for a variability of different content managing systems. It offers you different amorous looks for your social sharing buttons, all of are more eye-catching than the standard native buttons.
For access to more advanced features of Shareaholic, you need to register an account, but it is free which is awesome. You can increase your website's traffic, engage more visitors and drive revenue by using this plugin.
Features of Shareaholic:
Control whether or not share counts are exposed
Offers support for Tumbler, WordPress, Shopify, Drupal and much more
Display social icons with shortcodes
Offers social analytics support
Show related content
6- Simple Share Buttons Adder – Free
Simple Share Buttons Adder is a simple and straightforward plugin enables you to add some basic share buttons to your pages or posts.
You just select your content, location, placement and image set then share on social media. This plugin doesn't have too many features, but it is very light weight.
Features of Simple Share Buttons Adder:
Very light weight
Different images set
Offers support for customer images
As compared to name that is strange, it provides a very straightforward and easy solution to display basic share buttons at the top or bottom of your post's content.
You can also display on your homepage, posts, pages or categories and also enables you a nice amount of control.
It's floating button is only responsive for mobile in the premium version of the plugin. But you have the options to spike social media buttons for anyone who visits your site with a mobile device.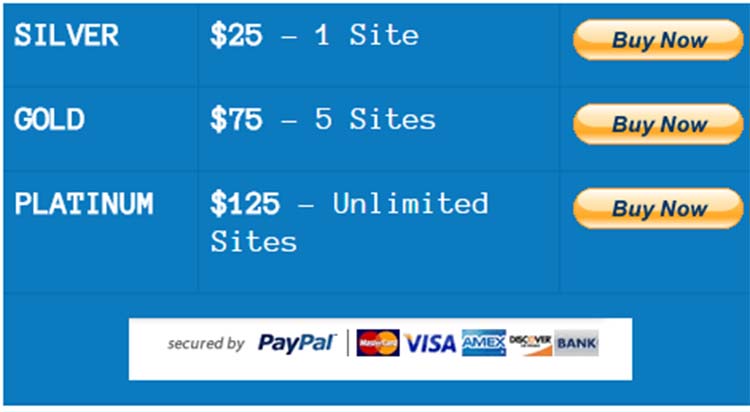 Features of Custom Share Buttons with Floating Sidebar:
Offers famous social media networks support only
Display social sharing button on your homepage, posts, pages or categories
Offers floating button hide option for mobile devices
Social media is a very famous part of every website. So I've mentioned above some of the most impressive and easy to use WordPress social media plugins that are best for your WordPress site.
I compiled my personal go-to social media plugin in this list, but you can write your experience in the comment box. You can also share your favorite social media sharing plugin that you used. I'd like if you share the own experience with us.
Related posts