Are you owner a blog and want to make money with it?
So you must want to apply for ads to make money from your blog and enjoy your life with your dream girl.
There are a lot of ways in the web world for making money. But always are not giving you a significant amount of ads. AdSense is a good way to make much more money within very short time.
That's the dream of every blogger to get AdSense account.
But you need to know something about AdSense that help you to get its account.
It is not as simple as you understand. Google AdSense is very stern when it comes to approving new account application. Because everyone wants to get accepted, so that's why they made the process very tough.
If you are rejected, don't worry because you're not alone.
I'll help you and share some things with you about the Google AdSense that you need to know before applying.
First of all, you want to get the answers to these questions:
How to apply for Google AdSense account?
Does my blog succeed for Google AdSense or not?
Does my blog eligible to apply for AdSense account?
What are the requirements of AdSense?
Why AdSense rejected your application?
Why is Google AdSense Famous?
Google AdSense is a famous Ads company that work at Pay Per Click system. It's paying rates is very high as compared to other Ads companies. It pays on time, every time.
You can earn a big amount of money with Google AdSense by doing work in right way. There are a lot of bloggers who are making a good sum of money from Google AdSense and their blog and leave a happy life.
The Google AdSense should be the number one optimal among all the other accessible Ads networks.
Google AdSense paying rates are better than all others Ads networks that are the primary reason, and it is so famous.
Due to this everybody is trying to get its account and they have made the agreement system very strict.
So here are some things you know before applying for AdSense.
 12 Things to do before Applying for AdSense Account
1- Write Quality Content
Quality content is the most important things for an excellent blog. Due to the quality content a blog gets a lot of beneficial benefits:
A lot of traffic
High rank in Google search engine results from pages
A good Alexa traffic rank
Aside from that, quality content helps you to get any ads company ads for advertisement and earn a big amount of money.
You know Google AdSense's number one demand for the application approval is a high-quality content of a blog. With the help of this, you can achieve your ads getting the target. Always Google likes those blogs which provide quality content, and their readers are enjoying their blog.
Bear in mind, your application will be revised by humans, and you have to excite them to get Google AdSense account.
You can say content is high-quality that:
Is free from grammar and spelling mistakes
write with proper headings and bullet lists
has 2000+ characters
sufficiently informative
Unique plus original
2- Build Privacy Policy Page
Most newbies bloggers don't create Privacy Policy page and say that privacy policy page doesn't make sense, but they are wrong.
It is the most common mistake that causes your AdSense approval application week or rejected.
Privacy policy page of website or blog is a very important thing that will help you to apply for Google AdSense. If you don't create your blog privacy policy page, you can't get approval.
It is the requirement of Google AdSense and the license you're not a scam and give a serious business.
You can write privacy policy page yourself or with privacy policy generators tools online.
3- Create About Us Page
Similar to privacy policy page you must create an about us page that help you and shows that you are the real person behind the blog or website.
An about us page had importance and played the major role in blog life even if you don't want Google AdSense account.
But if you want to get AdSense account and don't have about us page then your approval chances are zero.
About us, a page is a short way to describe yourself where you can write a summary about yourself and blog. Apart from that, it will help you to build a healthy relationship with your readers or visitors, and they will trust you.
4- Set up a Contact Us Page
Contact us page is an obvious way for the user's like may be worrying someone else. It is an enhanced to give them an occasion to speak up to you and tell how they feel about your blog, what they want to be revised, what they hated or liked.
Setup a contact us page and add your email that you're going to apply for Google AdSense.
By creating this page you are telling Google that you care your readers, audiences, visitors and ready to help them. They can contact us anytime.
5- Verify your Name and Email
When you apply for Google AdSense account, don't forget to put your email address and name in some easily noticeable area like about us and contact us pages. It'll confirm to Google AdSense team that you're the same person who applied for AdSense.
This is fastest verification process. You'll be able to enjoy the AdSense account.
6- Have Some Good Number of Posts
How many posts before applying for Google AdSense account?
There is no satisfying answer or hard and fast rule for it.
Because most blogs have Google AdSense with just 3 or 4 posts and most blogs are very established and have 300+ posts, but it was rejected.
There is no actual answer. But my personal experience is the best time to apply for Google AdSense is when you've at least 20 best high-quality content posts.
Your post should have at least 600+words with quality content.
7- Make Sure your Age is Above 18
Most newbies blog owners write incorrect age and get into trouble. Write your correct date of birth and age while applying for Google AdSense.
Google AdSense is not for those people who are under 18. Some of the people realize this problem after few times rejection. So, I advise you write your correct age and apply when you are over 18.
8-Improve Your Blog Design
A beautiful and professional blog increases your chances of AdSense account approval because blog design matters a lot. Google appreciates a clean, fast-loading and professional blog design.
Everybody when visiting a website they must take the first look at blog design. So, you try to make an excellent blog that engages your readers.
After your quality content blog design is the biggest thing that Google AdSense notices because it shows your experience, expertise, and professionalism.
So be careful because anything can destroy your chances of approval. There are a lot of websites that provide breathtaking and free themes for your excellent blog design.
If you want to spend some amount on your blog design, then you can get the premium theme for WordPress that offers you an excellent support service and extensive features.
9- Check your Content Type
Always try to publish such type of material that is very informative for your readers and attract them or encourage them to visit you blog again and again.
It is a thing that really matter to get AdSense account.
Some types of content are not acceptable for Google AdSense account:
Pirated content
Illegal stuff
Cracking and hacking tutorials
Adult material
AdSense account supports few languages: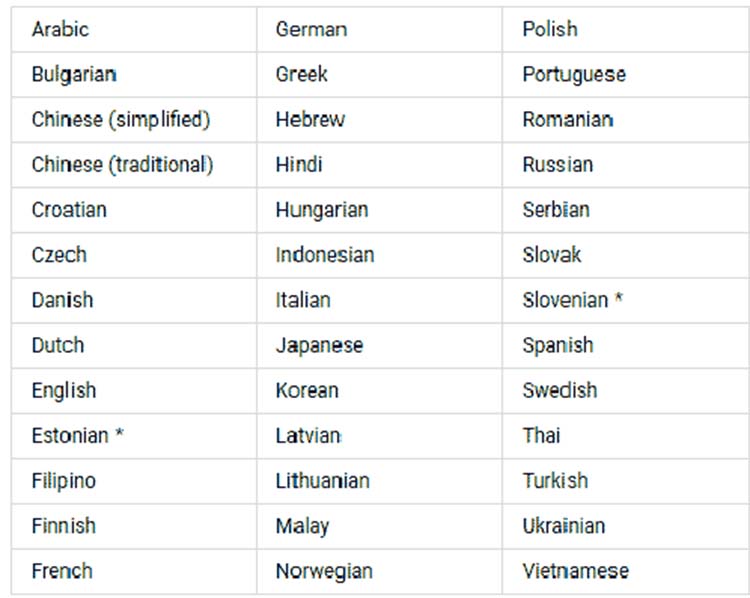 10- Use Top Level Domain
As far AdSense you must have a unique domain that represents your blog deeply. If you don't have an own domain, then stop dreaming about getting the AdSense account. Go to a top level domain platform and buy a domain name.
You can buy domain name anywhere with cast $15 – $20 / year. Godaddy and name cheap are two very famous and good networks where you can purchase the domain.
Remember the proper domain is the one that is with .com extension and has more chances of approval. Select a beautiful, unique and short name related to your blog niche.
Domain age restriction is another matter that AdSense is applied only to Asian countries like India etc. They don't admit any sites which are less than 6 months old.
I heard stories many people who got AdSense account less than 6 months old blog. So you can also apply for AdSense account if you have less than the 6-month-old blog with high-quality content.
11- Remove Other Ad Networks
Before applying for Google AdSense, you removed others company's ads. Google AdSense allows you to use other networks ads with them, but not like you use another ad network before them.
So, make sure to remove all ads before applying and don't put them back until you get a reply from AdSense team.
12- Check your Traffic Sources
Paid traffic sources are not best for Google AdSense approval because Google hates those sites that are getting paid traffic.
So, if you want to get AdSense account you try to bring traffic from search engines or other ways, but not paid traffic. Note, that Google doesn't accept websites which get traffic from illegal sources. So, focus on getting traffic from legal sources like search engines, social media, and other platforms.
Wrapping Up
Usually, Google AdSense approval is not hard work if you have an attractive and quality website because it is focused on high-quality content, blog design, optimized search engines and a massive rally of visitors.
So, make sure above mentioned all qualities are on your blog before applying for AdSense. Have your AdSense account? If yes then how did you get? Share your experience in the comment box.
Related posts