The time has been gone when food lovers visit the restaurants for eating some tasty and spicy foods. Nowadays, food lovers turn on the internet and search the various or most favorite restaurant website see their menu, food recipes, special offers, and many other things order anything which they like most.
If they want to visit the restaurants personally even then they search the restaurants and check their food categories first by visiting their website through the internet. When they select the restaurant plus food items, then they go and enjoy their lunch or dinner.
It's mean, if you are an owner of the restaurant, then you must want to build a responsive website for the restaurant but wait it can prove to be expensive.
What can I suggest you? – Yes
Try these free plus responsive WordPress theme that I'm going to describe in this list and save your money plus time. Without spending a cent, I guarantee you that you can build a beautiful and appealing website that attracts you people and increase your income.
So let's start!
You can also Read About the Free Plus Responsive WordPress Themes (Part I) 
1- FoodHunt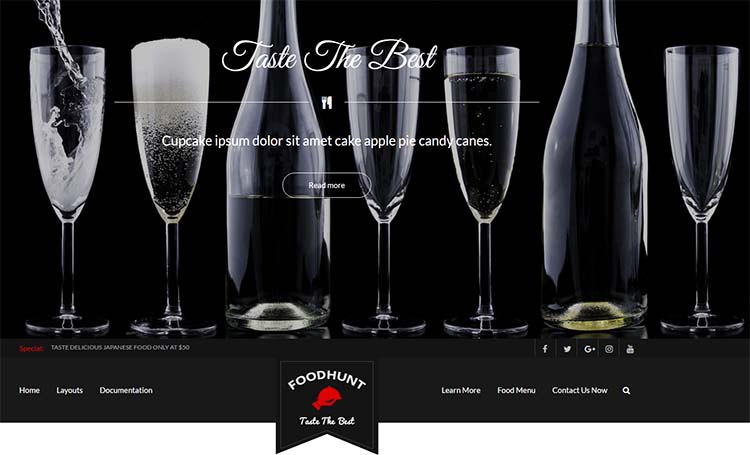 FoodHunt is a responsive theme that you can get free or also you can buy because it is available in both situations. FoodHunt comes with a full-screen slider where you can add mouthwatering recipe image. It is complete with all features that you need to create a beautiful restaurant website.
Apart, it is a multipurpose free plus responsive theme focus for Restaurant sites, but you can use it for other types of site. All this is possible due to its flexibility and easiness. You can customize it as you want.
Key Features of FoodHunt:
Responsive and Restaurant compatible design
Excellent slider
Primary color options
Restaurant template
Parallax background effect
2- Dyad
Dyad is a modern responsive WordPress theme where you can describe your products with image and recipes, and it makes a perfect balance. You can use this theme for multipurpose like as a photographer, for foodies, and as an artist, etc.
Those people want to see a strong photographic on their websites they must you this. Dyad is the hassle and minimal free. It is super clean and well balanced fascinating aspect that makes beautiful use of typography and white space.
You can underline some of your posts as the slider.
Key Features of Dyad:
Custom header, menu, and color
Classic menu
Editor style
Featured images
Site logo
RTL language support
Threaded Comments
3- Canapé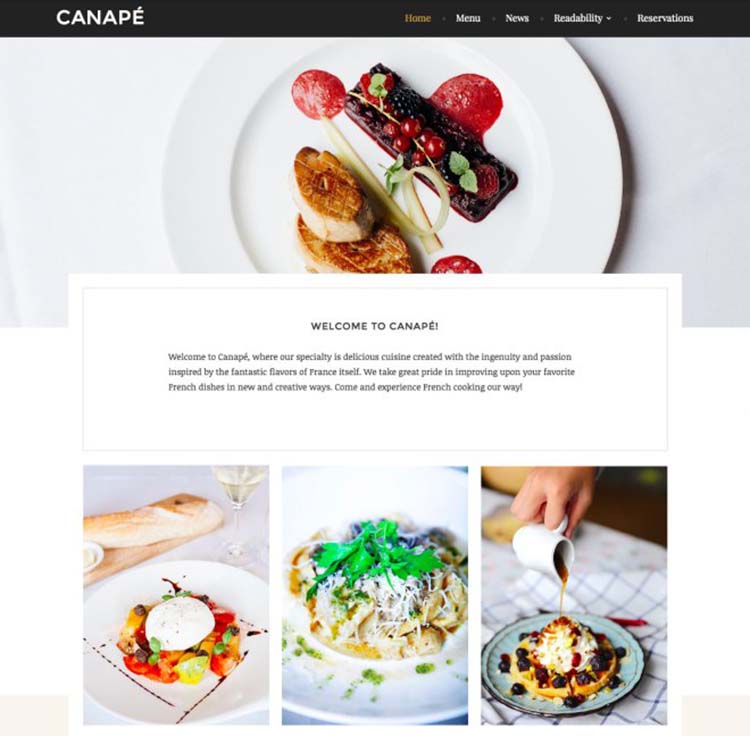 Canapé is the 3rd automatic WordPress theme on our list. It is a bold and refined theme that designed for restaurants and foods related other businesses. Showcase your drinks and foods in menu template.
While the combination with open table doohickey makes it easy for your guests to make online registrations. Canapé is providing a fantastic and modified reading practice across all devices.
Due to this your visitors or readers get access to the most relevant information about your products and business. Apart, it is front page template presents a targeted welcome page for your visitors with full-width featured images.
Key Features of Canapé:
Responsive design
Featured images
Website logo
Classic and social menu
5- Bistro
Bistro is the best child theme for Sydney, is one of the most strong, attractive, beautiful and complete theme for restaurant based businesses. Bistro theme is built over the stable Sydney theme that brings all the goodies of its parent theme.
A most strong feature of this theme is, it is best suited for restaurant owners and give them support to create the menu. It has cross browser compatibility and responsive and open smoothly on all devices.
Key Features of Bistro:
Live Customizer
Cross browser support
Fast support
Updates
Responsive
WordPress best practices
6- Receptar
Receptar is a breathtaking responsive and an easy customized WordPress theme for restaurants. It is really a fantastic art and flawless. Once you setup your website and add all featured images, the theme will look awesome.
You place your menu bar at the top-side of the website; however, you add a full-screen image to make direct and impressive hollow on your visitors. The menu icon is followed by social icons that will help you associate with your social profiles.
Key Features of Receptar:
Responsive and free theme
Cross browser compatible
Customizable colors
Front page slideshow
7- Brasserie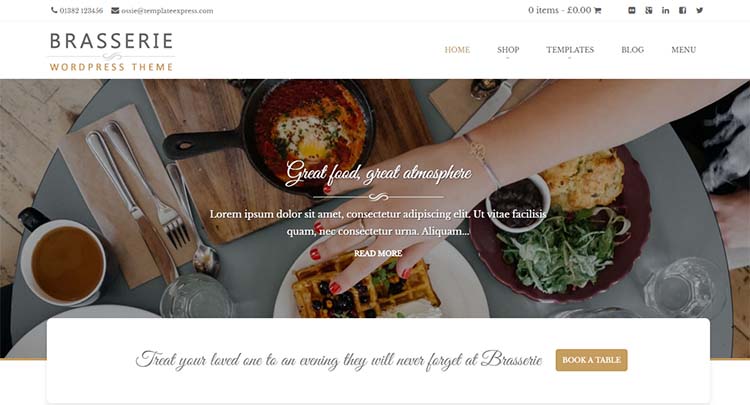 One of the most beautiful and compatible with WooCommerce WordPress theme that helps you to setup an online store for delicious recipes sells. Brasserie theme design is totally responsive, highly customizable, full-width and mobile friendly.
It looks great on all devices and all sizes. You can add your own website or business logo. Brasserie is a restaurant WP theme and fully customizable.
Key Features of Brasserie:
Responsive
Unlimited color and Google font options
Mobile Friendly
Multi-lingual
WooCommerce support
Customize logo
8- Foodeez Lite
Foodeez Lite is free plus responsive WordPress theme entirely designed for restaurants and hotels. You can amaze your visitor with a beautiful display of your taste recipes, cooking skills and delightful food with a hollow.
It has the full-width background image with fluctuating navigation. The theme also offers you the reservation form, and through this, your customers can place bookings. All hotels and restaurants want to showcase its cuisines in a beautiful manner, and Foodeez Lite has all of them.
If you are a cook, food experts, cuisines guru, a chef, blogger or fine dining lover, etc. then this theme is just for you. Its blog page is clean and designed to intensify pleasure-seeking senses.
Key Features of Foodeez Lite:
Fully Responsive and SEO optimized
Multiple layout options
Compatible will all browsers
Reservation Section
Blog section
Revolution slider
9- Shopbiz Lite
Shopbiz Lite is a beautiful, eye-catching responsive WordPress restaurant theme that makes your business site more impressive. It has the beautiful slideshow with emphasize on most necessary things.
Its look is breathtaking on every device. Shopbiz Lite Theme has the proper selection of advanced Google fonts, logo and background image loaders. This was designed for cakery, restaurant, food related shop and bakery. Its contact form integrated with Php and working subscriber form.
Key Features of Shopbiz Lite:
Responsive theme
Featured images
Custom colors
Dull width template
SEO friendly
10- Pique
Pique is responsive WordPress theme designed for one-page scrolling coffee shop or restaurant type website. Apart of this, it is perfect for small businesses like bakeries, hair salons, and other stores.
If you are the lover of parallax background image effect, pique is best for you. Pique is a beautiful design with the background image for every section of your site that you make.
Key Features of Pique:
Flexible Header
Full-width template
Featured images
Custom header, background, and menu
Infinite scroll and multiple menus
11- Restaurant Lite
Free plus responsive Restaurant Lite WordPress theme has an excellent design, which makes your website more beautiful and attractive for your visitors. You can use for hotel, lodge, café, business, coffee shops, restaurant, and commercial sites.
It has compatibility with Nextgen gallery that you can use if you would like to showcase menu items, food recipes and other restaurant views in the gallery section. It quickly fulfills restaurant business owner all requirements because it is fully customizable. You can quickly change the menu, front page, and all items on the homepage.
Key Features of Restaurant Lite:
Mobile friendly and responsive
SEO friendly
Compatible with Nextgen Gallery
Compatible with the latest version of WordPress
12- Leeway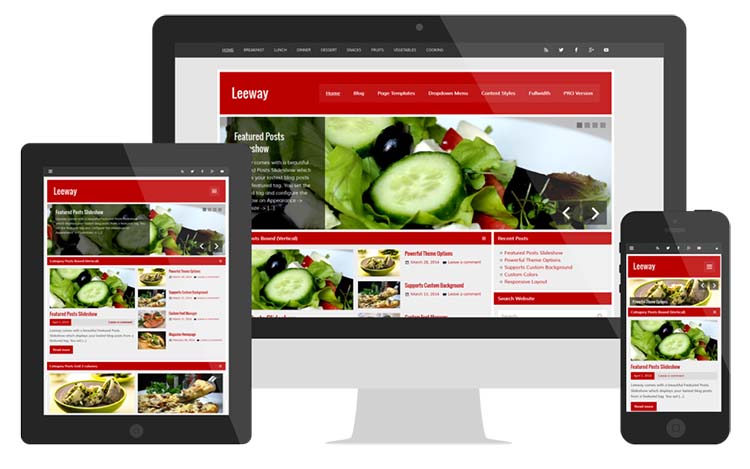 Leeway is a beautiful theme that actually suitable for small blog and magazine websites. It can also be awesome for the restaurant due to the flexibility and simplicity. It has all features that make your business site more beautiful and attractive for your visitors.
Its setting is very easy and straightforward to configure in the customizer. It is responsive and has a nice look on all devices. It has pro version too.
Key Features of Leeway:
Responsive layout
Featured post-Slideshow
Magazine homepage
SEO and mobile friendly
Full-width template and custom background
13- Kale
Kale is a food blog WordPress responsive theme that has nice category grid layout. You can divide your food items into different food group like dinners, drinks, and deserts, etc.
You can display all foods items in a clean and super attractive manner. It comes with lots of amazing features and is unified with many plugins. You can be used it for restaurant and make your business more beautiful.
Key Features of Kale:
Responsive layout
SEO and Mobile Friendly
Multiple blogs feed displays
Multiple sidebars
Customizable background color and image
Logo options
14- Perfetta Café
A very straightforward and attractive WordPress theme is Perfetta Café. With this, you can quickly setup a favorite restaurant or bar website. It is appealing for food sites, restaurants or other friendly locations that are crowded.
Its installation is very simple and easily. Sometimes, over-the-top and packed sites are not attracted more, but a simple website attracts more. Perfetta Café is a design that makes such type of straightforward and attractive website.
Key Features of Perfetta Café:
Customizable Theme
SEO and mobile friendly
Responsive layout
15- MH Food Magazine
MH Food magazine is a suitable theme for the yummy food website. It comes with very cool and fresh colors. You can use this responsive theme for health and fitness. It is beautiful free WordPress theme that makes your website more beautiful and lovely.
MH Food Magazine has flexible layout options and offers multiple unique customer widgets, extended design options, and great features including the color scheme and typography.
Key Features of MH Food Magazine:
Fully Responsive design
Custom widgets
Compatible with browsers and multisite
Fully widget sized
All WordPress themes are beautiful and lovely to the restaurants and other food websites. I'm sure; in these 15 free plus responsive WordPress themes you must get the most suitable theme that fulfills your all requirements and makes your business site more impressive.
If you'd use anyone of them, you can share your experience with us and help those people who want to make the new website.
Related posts