Photography as a hobby or profession has boomed nowadays. The reason is that most people have the interest to capture every moment of their lives and some people practice photography as a form of self-expression, but others do it as a profession.
The popularity of the photography was increased due to the popularity of social media. Now people try to take more and more beautiful pictures that attract people, and they use them.
Apart from social media people used photos in themes or templates and making the design of different websites. Internet world increases the importance of photography. Whether you are event photographer, photojournalist or just a photographer by passion, you should set up a blog or photography site help you to combine your all works at one platform.
An eye-catching website and responsive website is necessary to showcasing your responsive website is necessary to showcasing your beautiful full photography collection. For professional people, a photography website is the best tool to attract more clients.
I am sure, as a professional photographer, you have decided to build a website that shows off your works in a professional way.
For website creation, you select a free plus responsive photography WordPress theme from my list that is specially designed for showcasing photographs.
If you are not the photographer but want to build a website, you can read the free plus responsive WordPress themes for ecommerce shop, for restaurants or hotel and for blog website, etc. You can also know the five signs why you should invest in WordPress premium themes.
WordPress.org (WP) is a big platform where you can find the different themes for various purposes. But if you want an online shop for your products or services you must see these articles:
Let's take next step and see the free plus responsive photography WordPress themes that make your collection or work more attractive.
1- Infinite Photography
Infinite Photography is an entirely free and responsive WordPress theme for professional photographers or hobbyist photographers. A very elegant theme design that is great and clean. Modifying with customization options is easy.
Infinite Photography is a responsive design that is friendly to all types of devices. The theme is best for photo sharing, photo blogging and travel, food, lifestyle and sports, etc. with the single click, you can change full site color.
The purpose of infinite photography is to share your awesome moments and happiness with the world.
Key Features of Infinite Photography:
Responsive and SEO friendly
Compatible with all devices
Colors options
Logo options
Background image
Browser compatibility
2- Elegant Pink
Elegant Pink is feminine and girly WordPress theme that you can be used to build beautiful responsive blog related to photography, art, nature and design, food, lifestyle, fashions, kids, babies, wedding or any other types of photos websites.
The responsive quality of this theme makes your website mobile and other devices friendly. The theme is gorgeous with a lot of tools and features that allow customization of various facets of the theme according to own desires.
Elegant Pink Theme is SEO friendly and makes it easy to find on Google, Bing and Yahoo search engines.
Key Features of Elegant Pink:
Site Logo options
Responsive design
Cross browser compatible
SEO and mobile friendly
3- Hitchcock
Hitchcock is best WordPress theme for photographers, designers and other creative. It is a responsive WP theme designed for beautiful photography showcasing.
It has lots of features like Jetpack infinite scroll, custom header images, editor styling, social icon menu, custom color and support for gallery post format and much more.
Key Features of Hitchcock:
Responsive layouts
Gallery support
SEO and Mobile friendly
Infinite Scroll
4- Premium Photography
Premium Photography is a WordPress theme that is packed with full features that make your website awesome. It has the negligible clean presentation, but under the hood, it is loaded with add-ons, social media integration, logo change options, favicon support, and option to add copyright text to your photo and blog posts.
Premium Photography is the ideal theme for photographers who want to showcase their portfolio, travel buffs and technophiles will also love.
Key Features of Premium Photography:
Responsive layout
Featured images
Custom color, background, and header
SEO friendly
Full-Width Template
5- Photo Perfect
With Photo Perfect responsive WordPress theme photographers, photo bloggers, and creative glances show their photos collection to the world. The theme is very easy to customize.
Those people who require creating a dynamic and beautiful online brand for their photos they must use this theme because it is for them.
Key Features of Photo Perfect:
Responsive design
Logo options
Custom menu
SEO optimized
6- fPhotography
fPhotography is fully responsive WP theme and perfect for the photographer, for blog or photography website and photo shooting. It has many useful features like multi-level drop-down header menu, header logo, and admin customizer options, multiple browsers compatible, font awesome integration, SEO friendly and mobile friendly.
Key Features of fPhotography:
Responsive Design
SEO and Mobile friendly
Cross browsers compatibility
Logo options
7- Kalon
Kalon photography WordPress theme is best for professional people who focus on event's photography like wedding or baby photography. The developer describes Kalon is a feminine theme because it has cool and fresh light colors.
Due to its mild and soft colors which are perfect for showcasing life's gentler moments such as the engagement or baby birth photos. It is SEO friendly, and you can quickly rocket to the top of the Google search rankings.
Kalon is not only compatible with mobile or other devices but is also consistent with all browsers. It is one of the fastest loading WP themes.
Key Features of Kalon:
Responsive theme
Cross browser compatible
SEO friendly
Child theme compatible
Site logo options
8- Photolite
As a photographer, the Photolite theme must be your first choice because it offers you the best place to showcase your photos. It is latest and responsive theme that makes your website suitable for the mobile and all other devices.
You can customize your site color scheme, slider setting and much more. It is compatible with all browsers that increased your website ranking on Google or other search engines.
Key Features of Photolite:
Logo and color options
Responsive
SEO friendly
Featured images
Custom headers, menu, and background
9- WP Portfolio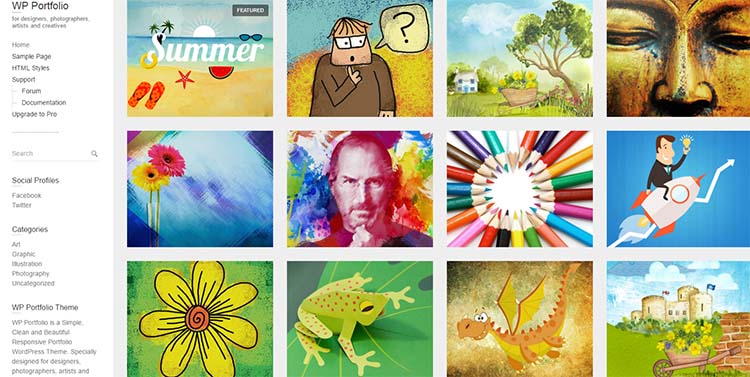 A clean and beautiful WordPress theme makes your website more beautiful and appealing. WP Portfolio is the best theme for photographers, designers, artists and creative people who want to display their beautiful collection on one platform. If you want to display and attract clients, use WP Portfolio and build a beautiful website with no cost.
It is rich with very advanced features that every person want to see in the own website. It has two post view layout, custom background, menu and header, WooCommerce compatible, social profile navigation and logo options, etc.
Key Features of WP Portfolio:
Responsive and free theme
Compatible WooCommerce
SEO friendly
Fully Customizer
10- Pingraphy
Pingraphy is a 100% free and responsive WordPress theme and gorgeous with a lot of features that help you run a Pinterest type website. It's Pinterest layout creates a familiar atmosphere that you and your readers will love.
It is a four column theme and shows your work more beautifully. Pingraphy is a fully customize theme offers you the ability to customize both the menu and the color, also provides you adjustment of your website to match your personality.
Key Features of Pingraphy:
Masonry Layout
Responsive layout
SEO optimized
Social Media Optimized
Unlimited Color
Fast install
11- Pixgraphy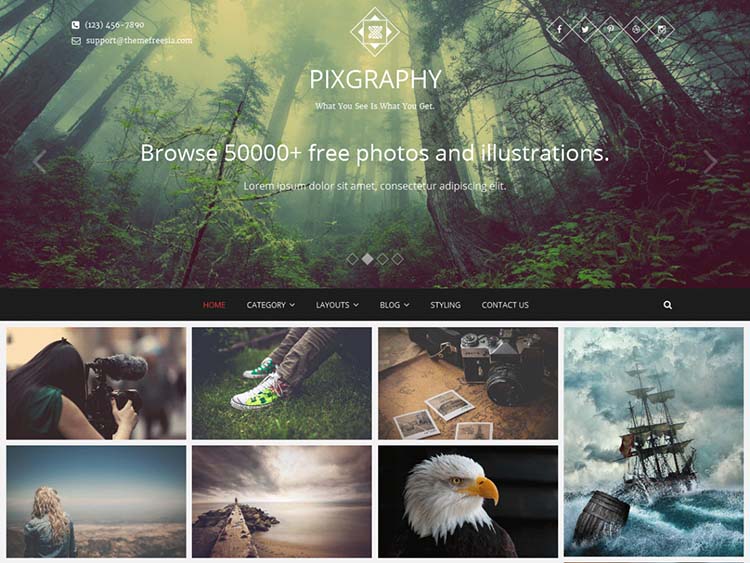 Pixgraphy is a fully responsive WP theme, designed and developed by theme Freesia. It supports many important plugins like contact form 7, bbPress, WooCommerce, Breadcrumb NaveXT, Jetpack, Polylang, and WP-PageNavi, etc.
Customizing with many options is easy. Pixgraphy consists contact us a template, widgets, sidebar, and gallery template. It is best to build professional photography websites.
Key Features of Pixgraphy:
Responsive Design
SEO friendly
Compatible WooCommerce
Cross browser compatible
Multiple layout
12- Photo Magic
While Photo Magic is high as well as retina instant photography WP theme best for photographers, designers, creative artists, and illustrators. Photo Magic is totally customized, and you can modify easily as you want.
This WP theme focuses on large photos and offers plenty of galleries. It has many useful and helpful features that make your website more attractive and according to your desires. It is responsive and looks great on all devices.
Key Features of Photo Magic:
Fully responsive design
Customize framework
Social links
Page templates
13- Portfolio Press
Portfolio Press is an excellent place where you can show your work and attract clients. It is a 100% responsive theme for photography, art, websites or other projects showcase. It works nicely similar to the regular blog site. An optional panel is available for uploading logos and custom the layout.
Key Features of Portfolio Press:
Responsive theme
Full-width template
Custom menu
Mobile friendly
14- Morphology Lite
Morphology Lite is a stylish design impression that is responsive and makes your website look more beautiful on mobile and all screen sizes. By practicing this theme, you can turn your front page into a visually easy-to-see gallery with the nicest and recent photos.
Morphology Lite is a wealthy features theme that makes your website impressive with all planes with a fresh and clean design. Fully customizable and has unlimited colors options you can change as you want.
Key Features of Morphology Lite:
Responsive Design
Unlimited colors
Jetpack compatible
Custom background
Mobile friendly
15- Photomania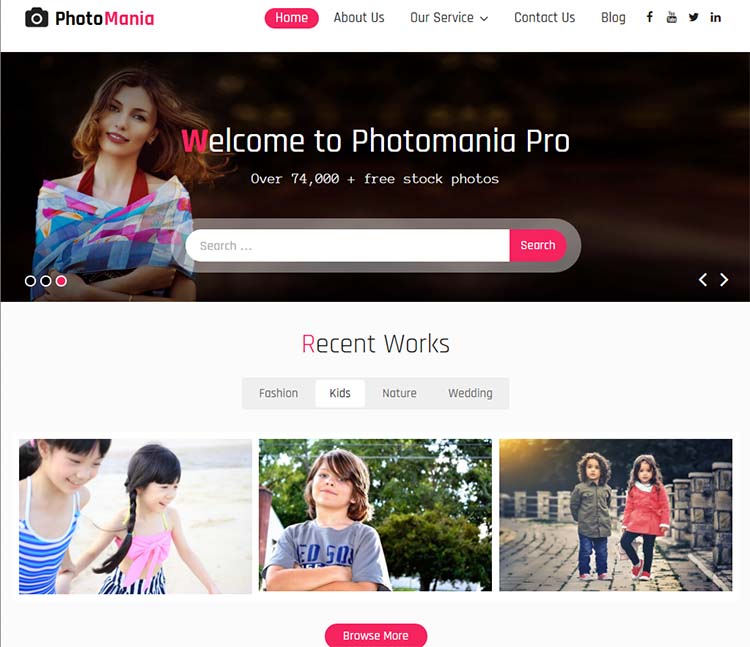 Photomania is modern free plus responsive astonishing WP photography theme. It has been intended for creative artists or photographers wants to create a comfortable and attractive showcase for their images and works. It is not only a wonderful showcase but also an incredible user experience. Photomania offers designers or photographers a lot of modern features that make their work more attractive.
Key Features of Photomania:
Custom header image and menu
Responsive design
Menu setting
Custom site banner
Logo and title customization
Mobile friendly
16- GK Portfolio
GK Portfolio is a strong WP responsive theme best for showcasing your projects, works photography, art or any creative discipline. You can get this beautiful theme with no cost and get the style that puts premium themes to shame.
If you really want a nice website without hitting your wallet, GK Portfolio is for you. Use GK Portfolio and set up a website that attracts your clients more.
Key Features of GK Portfolio:
Fast loading speed
Responsive design
Masterful bonus features
Color options
17- AcmePhoto
A Masonry layout based WordPress theme AcmePhoto, which is best for photography, art portfolio, freelancer and creative websites. AcmePhoto is a very flexible theme has many premium features including multiple menu positions, advanced pagination options and much more.
Apart AcmePhoto comes with lots of features like site layout options, logo options, header and footer options, sidebar and color options too. It has all functions that help you to create a well-organized and appealing website.
Key Features of AcmePhoto:
Responsive theme
Beautiful features section
Masonry layout
Color options
Logo options
Browser compatible
Fast loading
SEO friendly
18- BirdSITE
BirdSITE WordPress theme designed for photographers and photo bloggers. It has the beautiful appearance of pictures. BridSITTE is the responsive theme that makes your website looks beautiful on mobiles, pcs and other devices.
It is full of different features and fully customizable theme. You can change the text color, header line and footer background color and navigation color too.
Key Features of BirdSITE:
Responsive layout
Fully Customize theme
Page navigation
Color options
Custom header, footer and background color
19- Espied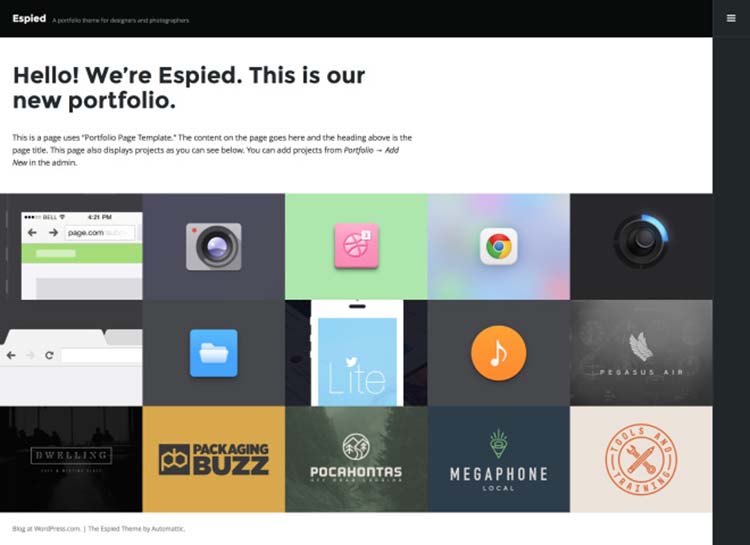 Espied is a portfolio WordPress theme best for photographers and designers. Espied is perfect for showcasing your photo sloping projects to the world. The theme's simple design puts the attention on your projects. You can download at WordPress.com. Espied is offering unique layouts and features for your portfolio projects. It is responsive WordPress theme that will increase the beauty of your website.
Key Features of Espied:
Responsive layout
Portfolio theme
Mobile Friendly
Custom menu
20- Tography Lite
Tography Lite is a simple and beautiful WordPress theme. You can make your work more appealing and beautiful with no cost by using Tography Lite. It gives the visitors a pleasant feeling rather a complicated website.
As a photographer, you can choose Tography Lite for next project. It is a responsive and free WP theme and ideal for photography. It is a light weighted and attractive theme for creating an interesting website.
Key Features of Tography Lite:
Responsive design
Unlimited portfolio items
Gallery layouts
Custom menu
SEO optimized
21- Snaps
Snaps is most modern and brilliant theme. It loads faster as compared to most of the WordPress themes. Snaps have a professional look for the designers, photographers, and arts creative people.
It has many features including automatic updating, page templates, and theme options. It offers an unlimited number of galleries in different layouts including one to five columns.
Key Features of Snaps:
Easy to customize
Fully responsive design
Post formats
Custom widget areas
Automatic updates
Unlimited galleries
Mobile friendly
22- Fukasawa
Fukasawa is a masonry style WordPress photography theme best for photographers and designer. It is a responsive and retina-ready design, best for the photo gallery and video formats posts. It features page template, five custom widgets, a gallery slideshow, color support, logo options and editor styles, etc.
Key Features of Fukasawa:
Masonry Layout
Responsive and Retina Ready
Customizable
Color options
Jetpack Support
Mobile Friendly
This themes list comes with most appealing and beautiful free plus responsive photography WordPress themes that help you to make more excellent websites for showcasing the work. I'd like to get your views about an own collection of photography WordPress themes. If you'd use any other WordPress theme for the photography website, you can share your experience in the comment box.
Related posts