Photographic has always been a fundamental part of Web Design.
'Not everyone has hundreds of dollars For Stock Photos.'
All social media managers or content marketers know that most terrible parts of their job are finding the photo to convey a post.
You can get your blog posts more appealing by using beautiful images according to your topic. If you used own images, it is better for your website because nobody claims you about the pictures. More than that, you will be saved to Google punishment.
But most people don't have a big team that can't easily create their images for the blog posts. This article is especially for you – must read it and find the best free stock photo sites where you can get the all high-quality images free of cost.
Are you heard that:
"Don't settle for anything less than you deserve."
Photography is a great profession or business. Some people do this business and continue to push out cheap stock photographic to present their brands.
Some people push out this stock with high price tags, but some people open awesome resources for free, and high-quality stock pictures with the permission of Creative Commons Zero.
To prove it, we have assembled a list of top 20 best free stock photo sites those explore high-quality images for your blog that belong to different categories.
Creative Commons Zero
Before sharing the free stock photo sites list, I want to recognize you what is the licensing and copyrights images. It's hard to see if you're legally permitted to modify or use a photo you find online for commercial or blog uses. So, the Creative Commons Zero (CC0) license is primarily available.
The Creative Commons Zero License:
"CC0 enables scientists, educators, artists and other creators and owners of copyright- or database-protected content to waive those interests in their works and thereby place them as completely as possible in the public domain, so that others may freely build upon, enhance and reuse the works for any purposes without restriction under copyright or database law."
In other words, you are free to use that images you can find under the CC0 license for any purpose. Here is the list of 20 best free stock photo sites where you can find all images under CC0 license.
1- IM Free
IM Free is a "curated collection of free web design resources, all for commercial use" and also a collection of CC0 licensed free photos for commercial and personal use.
It is best for free, high-quality images, free icons, free templates and other design projects. It is organized by themes such as education, nature, technology and much more.
2- LibreShot
LibreShot is a site of the collection of hundreds high-quality free stock CC0 license photos that you can use for commercial and personal use.
For the use of their images, it is not necessary to mention the author or source of the picture. LibreShot writes on their site:
"I'll be happy if you'll mention their name as a source."
You can get free photos and you can also use them on your blogs, websites or printed material.
3- Unsplash
Within every ten days, Unplash serves up ten beautiful new photos "whatever you want."
We all love most to this resource due to its uniqueness of the images. All images are licensed under CC0. They are almost always of awesomely beautiful, beautiful sites where you can find the most beautiful images just scroll down the home page.
Unsplash is a platform for free, high-quality photos and best source for stock images. In fact, we noticed some of the theme authors used Unsplash images in their templates and bootstrap themes.
4- Negative Space
Every week Negative Space uploads new breathtaking photos. You are free to use all of its images because it is without copyright restrictions. You can find a lot of photos from architecture to technology.
Continuously Negative Space is increasing the collection of their pictures, and you will get you require image by tapping into again and again. You can quickly filter request images through the gallery of photos, which is sortable by copy space position, category, and color.
5- Death to the Stock Photo
David and Allie the photographers and founders noticed a few years ago how was struggling for bloggers, business owners and creative to find free, high-quality images that suitable their "Vibe + tribe," they stepped in and made Death to the Stock Photo.
Submit your email and enjoy their every month newly uploaded photo to your inbox.
If you have extra $ and want to spend to get the photo stock, you can get its premium membership offers for $15/month or $18/year.
6- Kaboompics
Kaboompics is a great place to get the variety of high-quality free stock images including the fashion, food/drink, abstract, landscape, city/architecture, nature and other.
It's all images are licensed from CC0, and you can utilize pictures for business/blog or personal projects. All pictures of Kaboompics cover a variety of various scenarios and users freely use them for anything they'd like.
You can search thousands of free photos by keyword, tags, and category or can be browsed.
7- Stokpic
Stokpic is a free stock photos site, and you can use their photos for commercial purposes. Within every two weeks, the photographer of Stockpic sent ten new images. All pictures of Stokpic are under the CC0 license, and you could use them for different purposes (website, blog, theme & template, and ads, etc.) because it is public domain.
You can search different images through categories like technology, landscapes, and people till you find the perfect fit.
8- Startup Stock Photos
Startup Stock Photos has a concept of free stock images for "bloggers, websites, developers, publishers, websites startup, creators and everyone else."
The pictures are high as free social media images when you have distributed links to content such as a skilled blog post. Where the most appropriate graphic is of somebody on a computer or in an unplanned business setting.
9- Picjumbo
You want some awesome and breathtaking images for your next blog post or web design, visit Picjumbo and fulfill your all requirements. Daily Picjumbo adds new photos and increase their collection.
There is lots of section of high-quality free images that fit your different topics. Its photographer, Vicktor, offers premium packages memberships for bloggers, agencies, and designers.
The package is starting at $10/month, plus handy plugin for sketch and Photoshop for just $7.99.
10- FancyCrave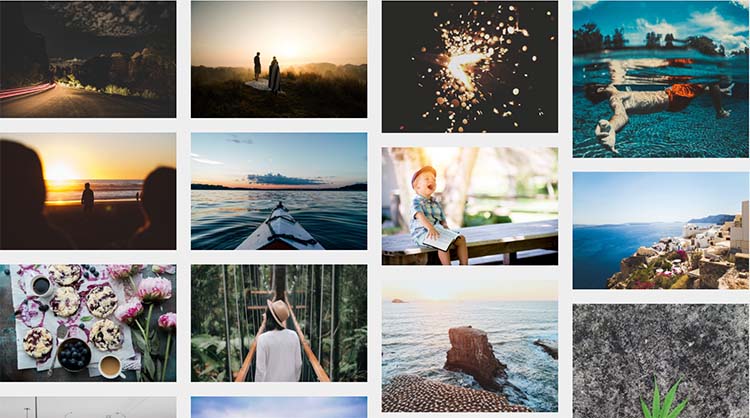 Igor Ovsynnykov is a designer and photographer who created FancyCrave for free stock photos. CC0 licenses its pictures. By this, it wants to help the designers, developers, artists, and bloggers.
You can find the images stock of different categories like food, architecture, nature, tech, auto, and people and you can also search photo by search tab.
Every day FancyCrave add two new high-quality photos and allows you to use in your commercial or non-commercial projects.
11- StockSnap
StockSnap is a wide site for free, high-quality, beautiful photos. All pictures release under Creative Commons Zero and don't necessitate credit. The photos sort the trending date, the number of views, and downloads.
StockSnap is "not your typical crappy stock photo site."
In reality, its collection is so impressive for multipurpose, and that's too ease to "fall the rabbit hole."
12- SplitShire
There are multi-hundreds free images that you can use for any purpose without any restrictions. An Italian photographer Daniel Nanescu was designed and fills with all types of photos.
At SplitShire you won't face any problem to finding perfect images for your next blog post or project. Designers use photos for web design, theme, and template.
13- Freerange
The photos stock of Freerange comes from a pool of both in-house photographers, as well as a growing civic of outdoor contributions. It was designed to provide high-quality free stock photos for commercial or non-commercial use.
In about us page Freerange write about the images:
"Images provided directly (in-house) by Freerange Stock originate one of two ways. They are either digitally photographed on Canon DSLR cameras. They are a high resolution (4000 dpi) Nikon scan of an original 35mm slide."
14- Pexels
According to other CC0 licensed websites, Pexels allows you to download images and use them in your personal and commercial projects. About photo sources Pexels Write on About Us page:
"Only 'Creative Commons Zero' pictures from our community of photographers. And sources like Unsplash, Gratisography, Little Visuals and much more are added to our photo database."
Its research functionality makes your research easy for next project photos.
15- Gratisography
Weekly Gratisography added new photos in their stock and made their awesome collection day-by-day. You can use its licensed pictures for the next project.
Ryan McGuire has photographed all images of Gratisography. All photos are excellent and distributed with different categories like animals, nature, and people, objective, whimsical and urban.
16- Life of Pix
It is a big collection of free, and high-quality photos denoted to the public domain by the Leeroy Advertising Agency in Montreal. Without any restriction, you can use its pictures for your commercial or personal use.
Other than that, Life of Pix has a counterpart "Life of Vids" where you can get free and new weekly footage videos, loops and clips.
Similar to Life of Pix it doesn't have any copyright restriction, and you can easily download them from the Vimeo account.
17- ISO Republic
An English photographer and designer Tom Eversley design the ISO Republic. It is an entirely new site. All images are widely utilizing by developers, bloggers, designers, social media teams, and marketers.
Its photos are free and high-resolution for you to use on your personal and commercial projects.
ISO Republic open door for contribute and accept photos from featured photographers. If you'd like then, submit the own photo by visiting their contribute page.
18- New Old Stock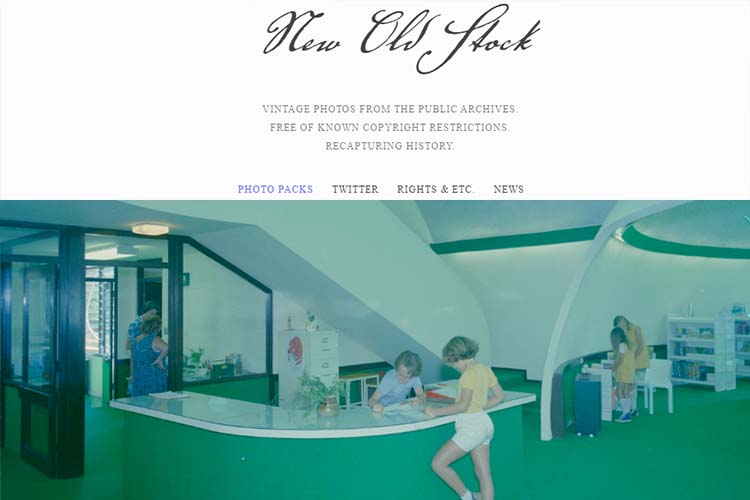 Almost everybody loves good look black and white images.
New Old Stock is a licensed website that offers a lot of free out-of-date photos from the public archives. All images are attractive and would be a gripping addition to any social media movement.
It is offering hundreds of royalty free stock images, and its collection platforms a wide variety of states and subjects, perfect for some social media posting chances.
19- Pixabay
Over 780,000 free stock pictures, videos, vector graphics and art illustrations you can use anywhere. All pictures on Pixabay releases free of copyrights under CC0. You may download, distribute, modify and use all photos free for anything.
The search bar of Pixabay allows you to filter your query down by factors like media type, color, placement and minimum extents.
20- Free Refe
Free Refe is a free public domain photos site. Most of the people have used its images for own purpose due to the high-quality or resolution, clarity, and diverse subject matter.
There is a huge stock of photos showing "real life" the photos are anything but must be common. As their site states, "using great imagery helps portray emotions, increase sales and conversions."
21- Morguefile
Morguefile is another free photo stock site that has over 350,000 photos. All images are CC0 permitted, and you can use them for commercial and personal projects.
It was designed in 1996 and the very old site. That offers free photographs for the use of creative projects. Morguefile a great resource for free social media photos. You can use store hours, website design, and backgrounds for text-based images that you want to share on Facebook or Instagram.
22- Jay Mantri
Jay Mantri is nothing more of breathtaking pictures that you can use in your next project or blog post. It has designed an impressive gallery of professional and quality photos for you and me and everyone who want to use them.
A writer says about its images "it'd be 'Scenic.'" I feel he means right about it.
I try to mention all best free stock photo sites, but if you understand I'd miss any of your favorite sites, please write in the comment box.
Related posts