After completion blog development, every person's next effort to get more traffic on blog or services.
To the extent social media marketing goes, Twitter becomes at the high level in the major social media players.
It has monthly over 320 million active users on the site. Due to this popularity, you can easily judge why Twitter is one of the platforms most businesses and marketers could profit from joining.
How can you get some of those 320 million active users involve with your blog posts and click on your link?
Calling through social media is supposed the best way to driving a big crowd to a website. And Twitter is a great way of brand promotion and advertisements. Tweeting and retweeting are a far-fetched way to get in soupçon with your customers. Before going to ahead of the creative ways to increase your Twitter followers read some articles help you more to increase your organic or inorganic traffic on website:
While followers building on Twitter take time, there are top 10 creative ways to increase your Twitter engagement dramatically.
What is Twitter Engagement?
Twitter engagement is a when anybody engages with your content that you post on Twitter. There are different ways audience can interact with your content:
Responding to your Tweet
Favoriting your Tweet
Mentioning you in a separate Tweet
Retweeting your Tweet
Clicking your links
One of the primary purposes of your posting on Twitter is to send interested and engaged traffic to your site.
1- Add Variety of Links
"On average, tweet with link generate 86% more retweets because link insertions raise audience attraction."
If you want more clicks on your site, you should add more links in your tweets. However, if you share a link with more valuable content, in return it sends more traffic to your website. You also try to share your content with others too.
If you find great content on Twitter share it and tag the brand that created it if possible. The brand also appreciates it and your users might, too.
Try to sharing that links you find valuable neither that not personal – encourage users to pay more responsiveness to what you are posting on your Twitter profile.
It is better to build relationships between users and you. Might be other company persons whose content you are sharing, and later on, they share your post in return.
This way help you increase engagement and send more traffic or new visitors to your website.
2- Design Short and Stimulating Tweets
Write compelling content for the writing challenge 140 characters. According to multiple sites or research data short tweets, fewer than 100 characters receive 21% more attention as compared to long tweets.
Short tweets show your aim and people understand them quickly, retweets them. Longer content shortages of users' engagement, as they are inefficient for people making them less eye-catching. Keeping thing shorts and gives the user a reason for interaction.
If you want users' share your content more, makes it easy for them.
3- Retweets other Users' Tweets
When you find the most remarkable content, you should retweet this early and regularly. Retweeting is a big way to engage people because most users know the value most. Psychologically, the interchange is a vital part of why people choose to follow and engage with you.
Retweeting to your users' content first could have much better luck when trying to grow them retweets and share your content.
4- Add Attractive Images
Another visual way to engages people with yourself or content is add beautiful images in your posts – it must work and get attention from users.
It is very simple, attract your followers through multiple interesting, colorful pictures and make them more interested they must check out.
What you tweet again and again it has equal importance, but if you add an image in your tweet is attracts person's eye more.
Moreover, tweets with images are more likely have more chances of retweets as compared to other social marketing. Always try to add most important pictures in your content post.
5- Respond When Someone Tweets to your Post
Answer to every tweet can be challenging for the most popular brands, or brands have a big number of followers, but best is to respond when a user tweets to you.
Sending a genuine response to Tweet can be helpful, especially if users tweeted you or tagged you in a post that could create a conversation.
Responding users' tweets are not only increased the chances of engagement, or they will engage with your posts in the future.
6- Know Peak Time and Tweets
Peak time will be specified the time of the day and vary from person to person due to their habits and time zones. By being able to find the peak time and make a schedule and posting your content during this time.
Therefore, you will get the more response, views and also increase clicks on your post. According to some studies:
"Posting between 12:00-03:00 on Monday to Friday is best time to getting more response and views."

"Adweek found that 5 pm had the highest retweets."
Most people say day time posting have more chances of more engagement. A lot of brands use schedule creating tools to posting content on social media. These tools post your content on social media during the peak time. You can also get the help of these tools for distributing your content during peak hours on social media.
7- Stream your Tweets to Your Facebook Wall
We can't neglect the importance of Facebook in the social media marketing. Facebook has established itself in the recent most effective, interacting and communicating social networking websites.
When we talk about those sites connecting people worldwide, Facebook stays on the top. Linking your Twitter account to your Facebook account is a very smart and valuable way to engage people more.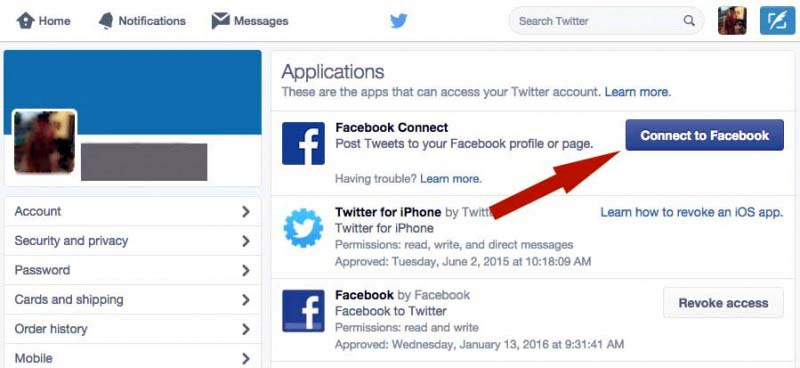 8- Use Hashtags in your Posts
Hashtags are an essential thing for Twitter users. You are pretty expert and know when a tweet comes with at least one hashtag, is offered the profits of helping an applicable user find you when they examine the hashtag you are using.
"Tweet with hashtags are 33% more likely to get Retweeted than those without them."
However, fewer hashtags can also be more beneficial.
"Tweets with one hashtag are 69% more likely to get retweeted than those with two hashtags"
9- Post Videos
Tweeter video trend comes a year ago and enables you to either record your video from a smartphone or upload it. You can also upload an existing video if you've iPhone. The maximum time of a good video must be under 30 second, and long video will lose most viewers. According to various search data:
"82% of Twitter users like to watch video content. Apart from that, native video on Twitter tends to drive more engagement than those from third party players."
10- Use Strong Words
Using most powerful words and most related to blog heading can increase clicks on it. There are some powerful sounds: Increase your Twitter followers or 10 best ways to increase your Twitter followers. Both are very attractive and actionable titles.
Sometimes your tweet is similar to your post heading, and you don't have enough space to make it more interesting and appealing, in this situation you try to make it attractive as possible.
While sometimes certain words work and individual words don't. Here is some example of real powerful words:
Bonus
Protect
Improve
How to
Complete
Exclusive
Immediately
The above-mentioned Twitter marketing ways work well and also free to attract the attention and win the heart of the crowd.
Find which way on this list works best for you, and you can also share your experience if you use another technique for Twitter followers.
Write your plans in the comment box and help the others. I'd also like to read your tricks.
Related posts