Are you newbies blogger?
Or are you finding the tips for blog post ideas that attract your readers for the backlink? – If yes then continue…
No doubt finding ideas about the blog is more hard-hitting work because you run out of ideas some of the times.
A lot of posts you can find in Google search when you add the key how to find the blog post ideas. But all of them are not satisfied you or fail to explain the basic helpful tips that make your post more appealing and attractive.
If you have a good post then people drive real backlinks to your blog because it is the best and awesome way to gets the high-rank website's backlinks.
The beauty of this post is that after reading this post, you will be able to find the excellent blog post idea that keeps growing your traffic, backlinks and network with so many bloggers in your niche.
Let's move with us and find the Top 7 Ways to Find Blog Post Ideas That Attract Backlinks.
1- Use the Power of Online Forums
Online forums are most popular and helpful for every person. All people easily use it and get their require field or answer about their question. For the blog traffic, you can utilize them and increase your blog traffic or backlinks ability.
You can find the topic of your interest and write the answer with own post link.
I)- Quora
Quora is a most popular question-and-answers website on the internet where you can ask questions, edit them and organized by its community of users and also find the answers to your questions.
You can be leveraging it for building your blog and finding inspirations, can do wonders.
So let's walk with me, and I unveil you some of the secrets of finding post ideas that drive backlinks to your site. For this, open the quora.com and search your interest topic. After the search, you see lots of question-related to your topic and some have many follow, and some have less.
For example, I searched for the topic 'SEO Content Marketing' and explored many questions that have the different number of followers entirely. That means it is a common question and if you create content on this topic, you will get more readers on your site. Other than that, you will get possible backlinks if you describe your issue in an exclusive way.
Once you find the material about your topic in Quora, I recommend you to answer the original question along thru a link back to your website.
Through this, you will get the more traffic on your website from the visitors including the followers of the questions.
When you succeed then, targeted traffic comes to your blog, and you will increase your social shares. Due to this, you may entice good backlinks.
There are many other popular websites like Quora that allow you to share your answers and questions, posture issues that haven't previously been replied.
II) – Yahoo Answers
It is another most popular site where you can also post answers-and-questions about different topics. It is free sign-up and category of game scheme where you increase points for replying other people's questions-and-answers. Here you can also work similarly as Quora. You can post your answers or questions with your site link back.
III) – Fluther
Another alternative of Quora that has two main parts of sign up: "Social and General." The Social section is for questions that are more open-completed, and the General unit is for matters that are asked with the determined of ahead knowledge on a topic. Fluther is free to use and is a little more deeply watered-down for quality than other online questions-and-answers forums.
2- Google Search Power
Google is a very advanced and modern platform that is your best friend to help you find the best topic ideas.
What should or what can you search on Google search?
Here are the tips-and-tricks that help you.
The most beneficial types of content, which are shared and linked to most of the times:
Infographic
Ultimate Guides
I) Infographic Ideas:
You can search infographic about your topic on Google by adding your keyword + "Infographic."
It shows you all infographic in your niche. Most of the remarkable results have a good aggregate of backlinks.
You can see the backlinks at Google search page by using different toolbars like Ahrefs etc. This toolbar displays the number of backlinks underneath the search results.
You can find the more results of infographic ideas by combining multiple keywords.
For example, you find the infographic about the SEO and Content Marketing by using the SEO or Content Marketing + "infographic" as a keyword.
Google shows you all the pages that have infographics related to SEO or Content Marketing.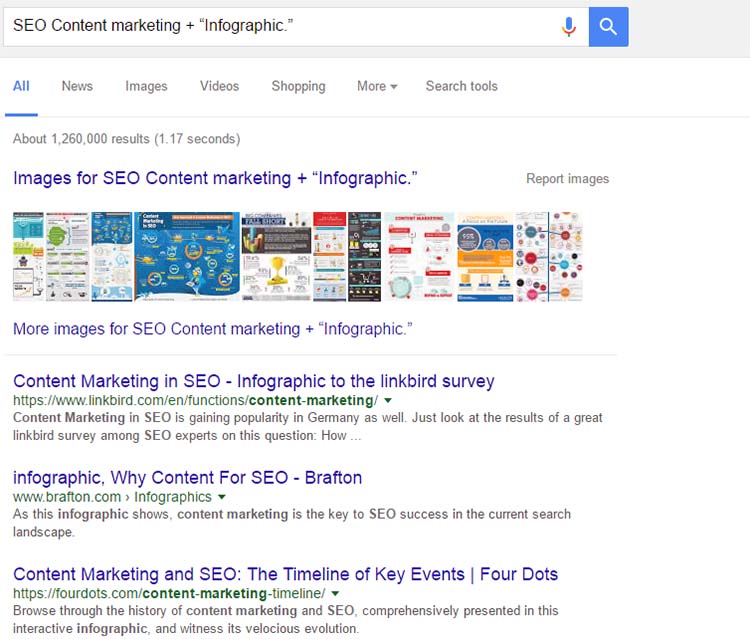 II) Ultimate Guides
Alike, ultimate guides are the link lodestones. They would appeal great backlinks if you endorsed properly.
If you are strong-minded to generate wide-ranging or ultimate guides in your niche, you prerequisite some ideas.
Here is how to use Google search for producing ideas for your ultimate guide. You can swap the word ultimate with different keywords such as:
SEO or Content Marketing + "Ultimate Guide."
Google shows the results, and you can scan the top results that have good backlinks. Write a great blog post that is the best in class. Share it with friends and social media correctly – get backlinks.
3- Publish Interviews and Roundups
If you start to publish interviews with different celebrities in your niche, it has an influence on site and drives lots of traffic including some potential backlinks.
If you conduct interviews of them and list on the web that means, you will get a backlink. It is too simple.
You just need to get the information or learn about the art of interviewing people. It sends traffic and backlinks on your site.
In this way, you also encouraged more people on your site and backlinks chance also increase.
4- Broken Links Building
Broken links building is a most efficient way to find the content writing ideas and also best for the backlinks building. You need to search for the posts in your niche, which regularly publish the possessions. Some websites also curate content monthly to show off the top articles in the niche.
You need to examine those types of article and make use of extensions that check your links and find the broken links on the resource page. Now, you just need to write engaging content on the same topic in your blog. This way, you get a new content idea.
After creating the content, you need to chime the webmaster about the broken link and hosted your new part of the substance to him. By this, he will be happy to link to you as facilitated him to repair broken link.
5- Scan the Headlines
In this world, you can find a lot of blog aggregators, RSS readers and content writer sites that collect the most beautiful and helpful articles in the niche.
You just need to scan the headlines in your mind and also content ideas. It confirms the scanning content should be famous to get backlinks. There are some sites where you can get the different ideas according to your niche.
Pinterest Boards
Wear and Cheer
Feedly
Blog communities
Forbes
Shopify blog
Twitter Hashtag
You can search keyword related to your niche in their quest box and get the ideas of content. If you want to find your keyword on Twitter, you just add your keyword in search box and return you get the results that are showing in the below screen shot.
You just determined the Tweets that got great popularity, and you can find tons of ideas for a blog.
6- Ask Question to Readers What They are Struggling on Blog
All successful bloggers already follow this trick. If you are the newbie in this niche, you follow this method and get more benefits that help you to drive more traffic to your site.
For this, you just need an attractive describers' list and send out an email to all, to reply any problems they are pebbledash in your blog.
You can directly ask them "What content you expect from our blog?" with this you can control your email list to get content ideas for blog content ideas.
Creating blog posts on those topics that readers send you and get a significant amount of traffic on your site.
7- Get Ideas From Forums and Communities
In the internet market lots of niche forums where you can easily find new content ideas, that make your blog more attractive and appealing. For ideas, you just need to browse through forums within your niche.
You will also come with the solution of the problems that people are facing and interact people with own new content ideas.
Disqus community is another way to browse communities.  Most of the websites use Disqus as their commenting platform. Browse the discussion related to your niche and find the new content ideas by understanding the question asked by readers.
I'm sure the ways mentioned above are sufficient to locate the content ideas that generate backlinks to your blog.
An attractive and helpful content return you a lot of traffic to your blog. So make sure the content you create is high-quality and beneficial for the readers and also cover all problems of visitor that you find in the discussion forum.
I hope you found it helpful. Share it with your friends and on social media.
Related posts