Shopify is a big eCommerce platform for all businesses where you can easily setup an affordable and accessible eCommerce platform. Shopify apps also offer an enterprise solution for growing and significant business with Shopify Plus. It provides a lot of beautiful themes and templates that make your business more attractive and accessible in the world.
With robust eCommerce platform, Shopify offers a significant collection of plugins and apps in its App Store. There are tons of Shopify apps that provide you a lot of options for the best functionality of your online store. Great apps should be easy to use and provide great support.
So this, what are the Shopify Apps that Shopify Store holders should pay concentration to? We have put a list of Top Shopify Apps that Upgrade your eCommerce Business if you install on their store you achieves a real revenue goal of this year on different marketing channels.
Here they are;
1- ShopPad – Pricing: $99 – $249 / month
Today, the smartphone is very famous everybody uses them for business or other purposes due to that we can say that most of the traffic comes from the mobile devices; a responsive website is an essential. Instagram, Facebook, and Pinterest, etc. are significant sources of mobile traffic to your Store. You are receiving more quality mobile traffic than ever before.
If your site is not quick to respond to different devices, your shopping is suffering, and customers are irritated, and you are missing out on sales. ShopPad is a Shopify best app that provides a simple solution for Shopify store owners. ShopPad quickly solves this issue by creating a responsive mobile site without any code.
It is 95% supportive of all mobile and tablet devices and also creates an app for your store. Your customers will never have to worry about zoom-and-pinch and your products automatically will be beautifully displayed according to your device screen.
2- Stitch Labs – Pricing: $29 – $449 / Month
Stitch Labs is a Shopify app that brings all products list together by integrating with your marketplaces, shopping carts. Payment processors, POS, and accounting solutions are one centralized source. It can easily manage multiple sales channels without increasing workload. Stitch Labs app allows you to gain complete control on your inventory, money and saving you time-related to your business.
It also lets you actually sell through different channels and complete your order with ease. Stitch Labs help you to grow your revenues and business scale with ease. It integrates with other marketplaces and point of sale solutions including Amazon, eBay, SparkPay, and Etsy, etc.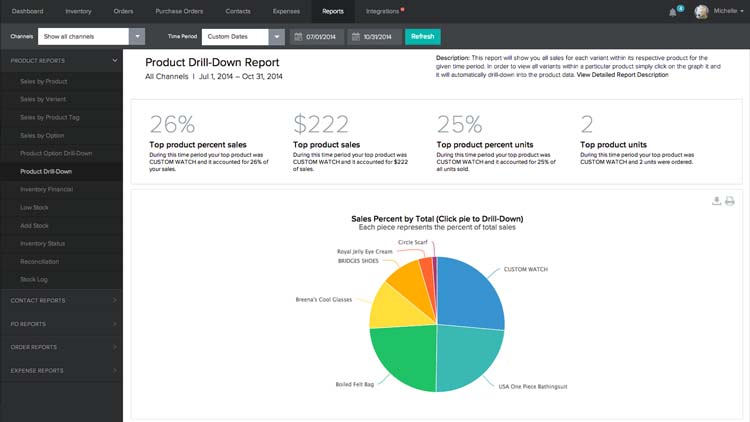 3- Vantage – Pricing: Free
Vantage is an excellent analytics dashboard that allows you to understand the driving performance of your company, including top selling products, year to date revenue, gender breakdown and much more and it also helps you to take action and optimize inventory from your marketing to your shipping charges. It is one of the best Shopify Retail Analytics Solutions of 2016 that helps you in your business growth.
Other than that, it automatically identifies more profitable opportunities. Its powerful analysis helps you to build eight types of Facebook advertising campaigns, email marketing campaigns and monitors a store's presentation to save Shopify store owners a ton of work hours every week.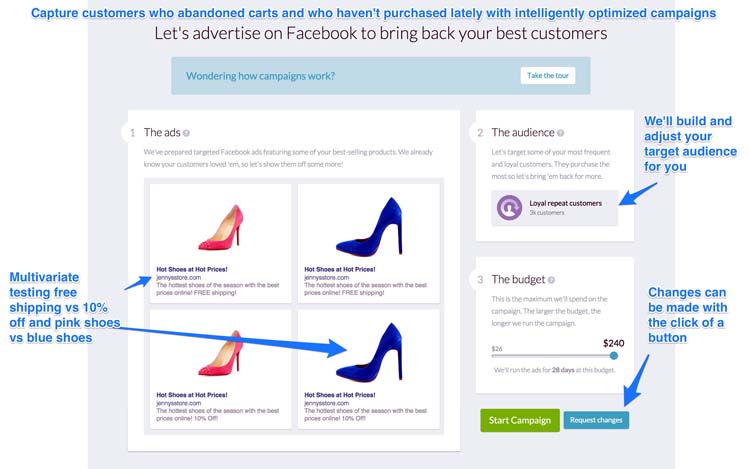 4- Shippo – Pricing: $0.05 Per Label Created
Shipping can be off-putting and perplexing, more than ever if you are transferring out a bunch of orders every day. This app helps you print shipping labels, track packages and manage shipments all from one place. It helps you in reduction your time and money on shipping.
Through Shippo app, you can get relevant order information with a single click and print labels within seconds. You can also evaluate shipping rates from more than 14 carries permitting you to get the most excellent deal for your business and your clientele.
5- QuickBooks Online Integration by PipeMonk – Pricing: $49 – $99 / Month
PipeMonk is an app that helps you to enter Shopify data into QuickBooks because if you manually enter data into it, many errors prone occur and your efforts are also doubled. PipeMonk syncs your Shopify data into QuickBooks Xero or online. Your all Orders, products, and clients are automatically synchronized saving you a ton of time to focus on other aspects of your online store.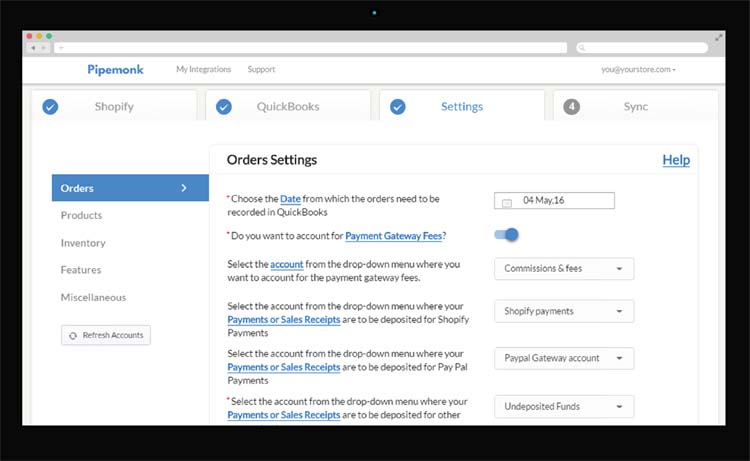 6- Olark Live Chat – Free – $243 / Month
Olark live chat and Olark CartSaver are two app that allows you to talk with your clients, merchants browsing your Shopify Store. When your customers fill their shopping cart, you can directly watch their detail and start talking with your customers before they abandon their carts. It offers you these powerful features:
Watch who's shopping at your store
Chat from anywhere
Multiple operators
Complete customization
It is a great tool or app that provides you real-time card balances and critical shopper information at your fingertips. This is best for Shopify site business owners.
7- Foursixty – Pricing: $50 – $300 / Month
Instagram is a system to showcase your products visually, but monetization of the channel presents its difficulties. Foursixty is an app that builds shoppable Instagram exhibition galleries for your online shop, and you can just put on show your Instagram products photos through an average Instagram widget.
Its shoppable features or functionality provides you for tagging products featured in your videos and photos so that your clients or followers can shop right from your post. More than 2,000 brand, bloggers, and famous agencies use Foursixty Shopify app or trusted on it.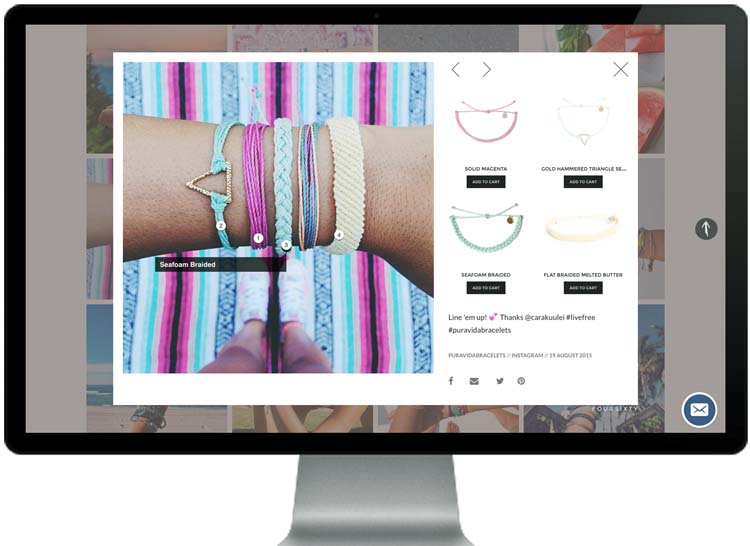 8- Klaviyo – Pricing: Free – $1000 / Month
Email marketing is a best or powerful way to brings new clients and customers and also keep them coming back to store. Klaviyo is a particular eCommerce email marketing platform that offers you best tools, and you send a more effective email. It is very straightforward and easy email marketing platform that you can integrate with Shopify. You can send the newsletter, segment your list, abandoned cart email and display mechanical product feeds.
9- YotPo – Pricing: Free – $700 / Month
Yotpo is a platform where you can encourage your customer to leave more reviews about the products. This app will increase the product quality reviews that you receive and will let you present your products reviews on the social media platforms and also onsite. By increasing your product's reviews, you can increase the legitimacy of your site and products while also getting valuable feedback to use to get better your site ranking and shopping practice.
10- Back in Stock – Pricing: $19 – $59 / Month
Back in Stock is an easy way to increase sales from your traffic. Because through this customers quickly sign up for the email alert. At the moment when an item is available on your store. It mechanically sent an email with a buy now button to your customers. Due to that, your sale automatically increased plus your client has left a good idea for your store.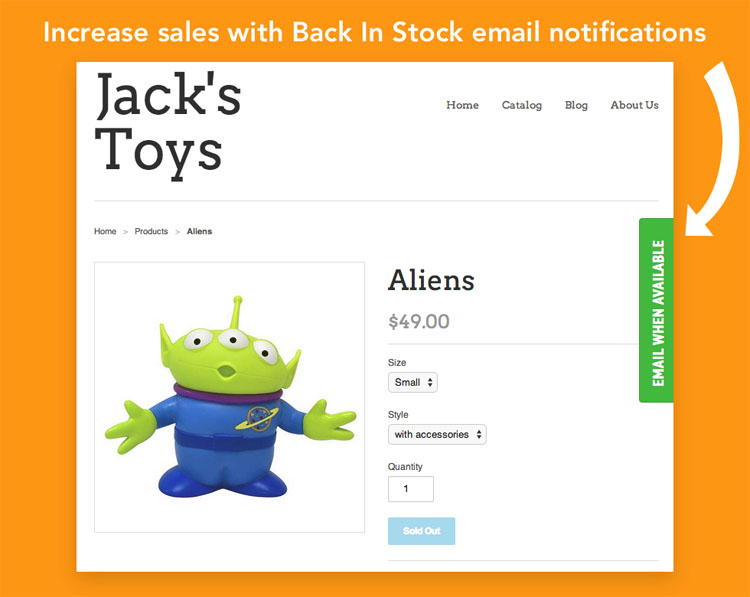 Wrapping Up
All the above Shopify apps that you can easily get from. The Shopify App Store is very helpful for the online shop store. Have you used any Shopify app before? If you use it, then share your experience with us in the comment box below.
Related posts