Shopify is really a good option to create an online store, and a lot of people also have the online store with Shopify, and they satisfy Shopify work. It is a big platform where you can easily create a big or small online store and sell own products and services. Do you want to build an eCommerce online store yourself or without developer? Shopify is the only platform where you can do this easily.
Other than Shopify WordPress is another platform that offers the online store facility but itself it does not provide this, WooCommerce is a plugin that it introduced for the online store, and you can use this plugin if you already have a WordPress website. Shopify is the platform where you can create the eCommerce platform if you have already a website or not, indeed it is in WordPress or not because Shopify now introduces a way to create a WordPress site's online store on Shopify.
So, you don't worry, if you have already WordPress site and now want to build the online store with Shopify, you can easily integrate your site with Shopify platform. We will describe the simple and easy way how to create a WordPress eCommerce Store with Shopify. Recently, Shopify has released WordPress specific products including themes and plugins that make the combination even easier.
This new version of Shopify's WordPress themes and plugins has cut down the process of setting up your online store with WordPress.
Getting Started
Before moving to how to create a WordPress eCommerce store with Shopify step by step instruction, you need to bear in mind how to organize your site's domain structure because it is currently no way introduce to manage both platforms from single admin panel.
So, you will need to login to Shopify to handle your products from one place and for blog management, you will need to login to WordPress. It is little annoying, but if your business strategy depends on content marketing. In this situation, you build a community or a landing page then you will be happy or easily you did.
Why use Shopify with WordPress?
WordPress and Shopify both are entirely different. Shopify is a hosted platform and WordPress is a self-hosted platform, WordPress offers some restricted hosted platform, but for the sake of this post, we will stick to the free self-hosted version that is especially more extendable.
WordPress is created with publishing in mind and works well as a publishing and blogging platform. For e-commerce platform, it doesn't work simple out of the box. For this purpose, you need to use some plugins such as WooCommerce and organize all the aspects of payment gateways among others. Shopify is very eased and simple platform for an eCommerce store. Due to the below noteworthy features that make Shopify is a better eCommerce solution, you understand Shopify is the best platform for the online store.
Better Security Options
SSL (Secure Sockets Layer) – All Shopify stores including a 256-bit SSL certificate to keep business data and customers' information safe and secure.
PCI (Payment Card Industry) compliant (Level-1) – Shopify saves your client's credit card details with PCI compliant level-1.
Better Shopping Cart Options
Shopify offers different shopping cart options that make it easy to increase your conversions.
Built-in Payment Option – it has built-in payment options that make you able to use Master Card, Visa Card, and Discover and American Express payments directly. Shopify provides you ready for action credit card rates for the seller fees.
Multiple Payment Gateways – Shopify offers above 70 payment gateways including, PayPal, geeky Bitcoin, and Stripe.
Shipping Rates and Automatic Taxes – it takes out the squabble of calculating shipping rates and habitual charges for locations around the world.
Many other features that you can be built in with the help of plugins and coding, but above mentioned Shopify had really simplified features.
Setup Shopify Online Store
To start you need two things:
An existing Shopify store – if you already have an existing store of Shopify then you just log in and move to next step, and if you don't have Shopify store then first you create a Shopify store then further process.
Suppose you have Shopify store then you just find the plugin itself that you can get by exploring 'Shopify eCommerce plugin' on the 'Add New' plugin page in your WordPress – admin. For the further process, you can jump to the second part of the post.
First Part:
If you don't have Shopify store, first you need to visit the Shopify.com and add email to get the 14 days free trail. No balance is required for signup for 14 days free trail, and after that, you need to buy its plan that starts from $9/month.
After entering your email click on the button of 'start your free trial.' A new page opens in front of you and asking you to fill in the email, password and store name.
When you will complete then, click on 'Create your store' button, where it will be asked your name, address, currencies and tax rates.
Now you have own Shopify store after that you follow along to connect it with a WordPress site.
Second Part:
Install Shopify WordPress Plugin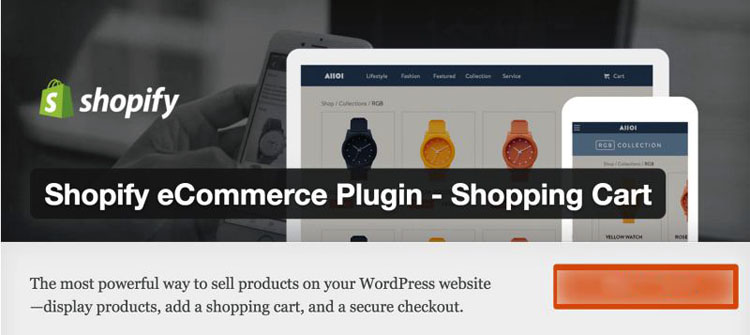 Recently Shopify has released a WordPress plugin that makes the integration much easier between the both platforms.
Due to this plugin, you can easily display your products and ass secure shopping cart directly on your WordPress site. This plugin makes possible To:
Connect self-hosted WordPress site with hosted Shopify
Add shopping cart on your WordPress site.
Sell your products with buy button within the pages and posts.
Add WordPress widget for your Shopify products.
This plugin is offered in multiple languages including French, Spanish, and English.
Steps Installing Shopify Plugin
After Shopify signup goes to your WordPress site, plugins –> add new and search plugin for Shopify and install and stimulate the Shopify eCommerce Plugin.
After activating the plugin, you see Shopify tab on the menu bar of WordPress site dashboard.
Go to Shopify –> setting and enter your store name to connect your WordPress site with Shopify. It will acquire you to Shopify store page and ask you to log in and manage your online store.
After this, you see setting page for your Shopify store along with your name. On the setting page, you will see three major things add products, set up payments and set up shipping that you need to arrange to start selling your products with Shopify.
Adding Products to Shopify Store
After the setting up of Shopify store, you add products that you want to sell in your store. Click on the button 'Add a Product' and add your products to your store.
After the click, Shopify's page for adding the product will be open in a new tab and you complete this page similar to below sample.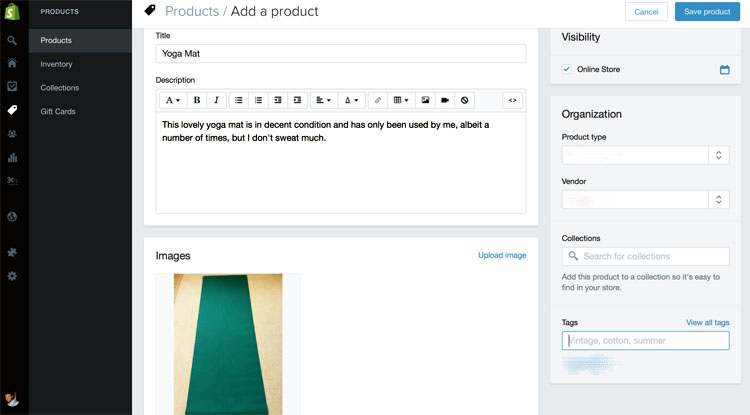 You can go ahead and add more products in your Shopify store.
Setup Payments for Shopify Store
Another major set up that you need to complete for your store is the payment gateway.
Click on the setup payment button and you see a Shopify payment page in a new tab.
Shopify enables your store with above 70 payment gateways. PayPal Express Checkout and Shopify Payments are very easy payment methods. By default, your store is ready to accept the payment process of PayPal Express Checkout. If you have PayPal customer account with the same email that you used for Shopify, then it is okay. By using this email, you can set up a new PayPal customer account.
If you use Shopify payment, you should be able to accept credit card payment. You'll need to setup your payment process by providing Shopify with some additional details about the business. Once setup, Shopify will honestly transfer the sales to your bank account.
You can also select the different payment ways like Amazon payments and many others that you select from a list of alternative payment options.
Setup Shipping for Shopify Store
It is the final step of setting up your online store with Shopify. After that, it is ready to sell.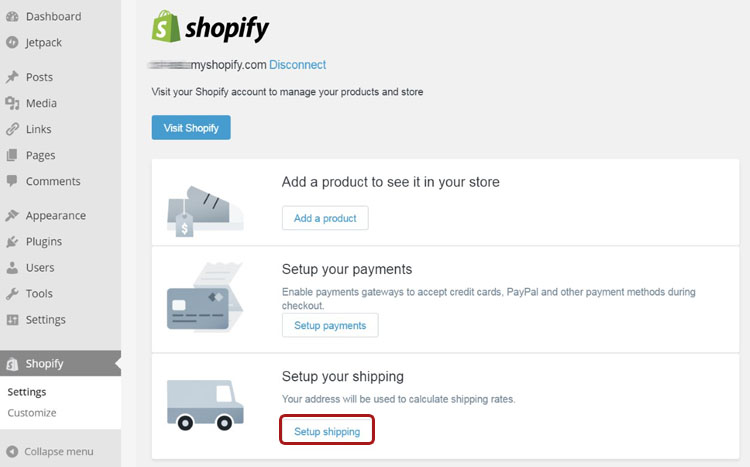 For shipping setup, click on button and settings the page according to your business.
Some rates and weight by default will be set to your store address, but you will need to set up according to business. This part will be used to estimate shipping rates, and you can decide to edit it for a different shipping starting point.
Further, you can define shipping zones and comparable rates to locations depending on factors such as weight. You will need to set up national and international shipping rates.
Other than that you can add fulfillment and drop shipping providers including Shipwire, Amazon, and Rakuten that fits your needs. Shopify shipping zones are entirely customizable even you can add tax charges for different countries.
You can also configure other settings for your Shopify store. But these essential configurations should make your store complete to sell your products.
Wrapping Up
All in all, by using this new Shopify plugin for WordPress site makes sense in a couple of cases:
Shopify eCommerce Plugin is a great solution if you already have a WordPress site, and you want to integrate it with Shopify online store.
If you are a blogger, who seeks to add an eCommerce module to their WordPress site without having to deal with all the safety-related stuff. It is a place, where you can display your products and services that your customers buy them from your WordPress site.
It is an ideal for those people who love WordPress and don't want to move on Shopify platform totally. But just wants Shopify eCommerce capabilities.
That being said, if you don't have an own WordPress site, nor a Shopify store. The better solution will go to Shopify for the separate online store. That can also dish up as your standard website. In this case, you can take care of all your products management duty at one place. In place of having to switch between two admin panels. How do you feel now? Have you any question after that? Or other issues, please share it in the comment box.
Related posts