Are you building an online shop or store? And want to know which WordPress eCommerce plugin is best for your store?
The right plugin selection is crucial for your online business and also best for its success.
Do you know that?
A better platform means more chances for success or growth.
Once you have created an online shop and put everything into action. One thing is left to do is set up the eCommerce website setting.
Assuming that you already decided to build an eCommerce site with WordPress, might be confused which e-commerce plugin best fit for your store. The collection of 6 best WordPress eCommerce plugins will help you to select the best WordPress e-commerce plugin for an own online store.
All plugins are free and best for creating any type of profitable WordPress online or e-store. Let's walk and uncover the collection of best WordPress e-commerce plugins.
1- WooCommerce
WooCommerce is one of the best perfect and famous WordPress eCommerce plugin (and is one of the best alternatives of Shopify). It is packed full of latest feature that makes your e-store more strong and appealing for your visitors.
WooCommerce plugin is not only helping you to sell your services or products online easily but beautifully as well.
You can download WooCommerce plugin free in the WordPress plugin storehouse. Its popularity is owes to its easy to use ad extensive range of free.
Its premium version also offers more features that improve its functionality. It supports almost all types of shipping, so you can easily sell your services or products in the whole world.
This gives you full control and recently powers more than 39% of e-commerce websites in the internet world. It is the most customizableCommercece platform for online shop building.
2- Easy Digital Downloads
Easy Digital Downloads is simple to set up, lightweight, and features-rich eCommerce plugin for selling digital downloads online products via WordPress without any cost.
It is easy to use and powerful to create beautiful digital goods store for sale. It has a lot of useless features like plug-ins. This has retained selling digital good simple and modernized by offering only most valuable features.
Easy Digital Download is the most developer friendly eCommerce solution, means it is very easy and simple for the developer. They can easy customize it according to their requirements.
3- WP eCommerce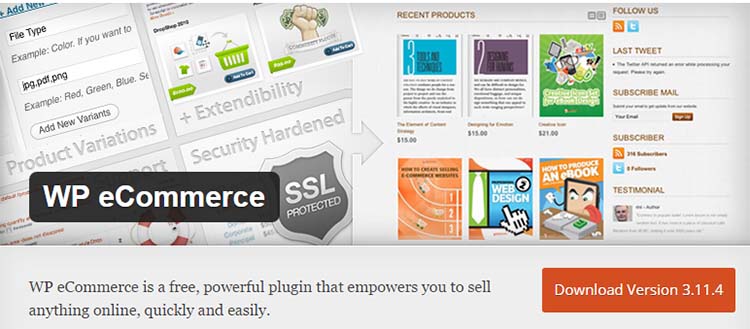 WP eCommerce WordPress plugin is best for both professional and newbies e-store business owners. It is simple to use and easy to setup. It is customizable and you could have complete control over the appearance and setting of your online selling store.
Whether you sell digital downloads, physical inventory, and memberships, WP eCommerce plugin has made selling an out-and-out breeze.
With over 40,000 downloads, it is the 2nd most famous plug-in in the eCommerce planetary. WP eCommerce integrates with dozens of payment and shipment processors.
It is a perfect and great plugin for the newbies online business persons who are testing out the eCommerce waters. Other than that, it offers you far-fetched functionality filled into an easy to use a plugin with a clean and neat boundary.
4- Shopify
Shopify is a famous and fast growing eCommerce platform that offers you e-store plugins and also handle everything for newbies or professional entrepreneurs. It is a separate service; it does come with a WordPress combination.
Shopify is an eCommerce platform that is made for you where you can sell online everything – it gives you full cover. Shopify integrates with different shipping, payment gateways, and taxes.
It also makes easy to accept credit card both online and in person. With Shopify, you can create a Facebook store, add a buy button on Twitter and also create a buyable pin on Pinterest.
5- iTheme Exchange
iTheme Exchange is an instinctual, easy and awfully extendable WordPress eCommerce plugin. It is user-friendly; it makes artifact creation process moderately easier. Starting with iTheme Exchange is very easy and you can install it easily.
Apart from that, you can easily activate, choose your favorite payment processor, add products and start selling. iTheme support the PayPal payment and also available to fulfill your specific needs.
The pro version of iTheme Exchange is also available in the market and you can unlock iTheme that has much more advanced features.
6- MarketPress
Experienced WordPress developers WPMU DEV developed famous MarketPress eCommerce plugin. It is easily customizable and feature-rich eCommerce plugin that makes your e-store more successful and also offers you a good platform where you can sell different things.
It is compatible with BuddyPress and multisite. MarketPress is an advanced plugin that comes with beautiful themes and you can be easily customized without touching a single line of code, means you can handle it without coding information or knowledge.
MarketPress pro version gives you more features such as a full suite of payment methods, more than one built-in store style Google analytics eCommerce tracking calculating shipping elements and product personalization.
All in all WordPress eCommerce plugins are fully customizable and best for e-store business. I'm sure, this post clears your all points and after this, you must be able to select a good eCommerce plugin for own e-shop.
Have I missed your favorite eCommerce plugin? You can share your favorite plugin name in the comment box and also experience, I'll mention in the post ASAP.
Related posts