The battle of the eCommerce giants is paramount in online business. But most of the people don't have the experience which platform of the eCommerce is best for a successful business. I listen, many questions from my clients about Shopify and Magento, which one is the best eCommerce platform that makes them successful.
The selection of the best eCommerce online store platform is imperative. The best selection of online business store decides your business will be successful or unsuccessful. A lot of options are available for the online business eCommerce platforms, but Shopify and Magento are biggest contenders.
Both are a very popular online business platform that fights head-to-head in the race to the best eCommerce store list. But they are different. Magento has enjoyed the higher popularity because it is too old platform rather than Shopify. Shopify is the biggest competitors of Magento in the market.
You read tons of blog posts about the platform that compare them. But we'll highlight the details of Shopify and Magento features. In this most, you will find the advance and such comparison of both platforms. After reading, you must select the best eCommerce store for own online business.
Shopify and Magento both are excellent eCommerce platform. Which one is the best online store? It depends on your demands. What your needs are?
Unbiased Comparison Between Shopify and Magento
Popularity
According to the Google searches, Magento is the most popular platform. However, Shopify is the newest eCommerce platform but recently taking demand. The 14% of the top million websites are used Magento and 6% sites for Shopify. Magento is the best eCommerce platform for the big online store or business like Rosetta Stone, Ghiradelli, and Olympus. Shopify has some famous company names like Tesla ad Los Angeles Lakers' Stone etc. because it is the perfect platform for small firms.

Coding
The coding area of Shopify and Magento vary vastly. Shopify uses an own distinct language called 'Liquid,' while Magento uses PHP. Shopify is a hosted source, and Magento is a self-hosted source where you can customize source code to own store as you want. But Shopify is not offering this facility.
Shopify is best for the single store, but for advanced and ideal store Magento is best that provide to change the source code.
Expense
Shopify is a SAAS (software-as-a-service). The merchants pay a specific monthly fee to access the Shopify software. At the begging, Shopify offers a free trail, but after that, you will have to pay.
Magento users are talented to manage the hosting solution as they want or their needs. The Community Edition of Magento is a free trail that is the best choice for the developers and small business.
Checkout
The ways of Checkout of both platforms are not entirely similar but have some common points. Magento checkout is exceptional and packed without box features like automatic guest checkout, one-page checkout, and multiple addresses checkout, saved a shopping cart, gift messages, and two-step checkout.
The reduction code box is sited on the checkout, making the process of checkout more easy or sensitive to customers. The payment information and shipping information of Magento works to reduce confusion.
Shopify also has some good checkout options and recently introduce a new one-page responsive checkout. The Shopify merchants are not able to view real-time shipping rates or time. The difference between the Shopify and Magento checkout is described in the below picture.
Community
Magento is also having one more priority wealth of community over Shopify. It is a very active community, and its developers are provided a lot of solutions for user needs. Due to its big active community owner of business quickly find the designer that work with them. The Magento users can also get or locate the help, access, support and other maintenance services outside the developer quickly.
Shopify is a friendly eCommerce platform that you can handle yourself quickly without the advance knowledge of development.
SEO (Search Engine Organization)
According to the different search result, 44% purchases start with an online search. SEO is an important tool that makes your online store and products finding via Google, Amazon and many other search engines incredibly more valuable.
There are a lot of eCommerce platforms are excellent for SEO. Magento came out on top with Shopify for SEO. Its features examined different things like heading, titles, Meta descriptions and page URLs, etc. SEO is the best factor and play a proper role in website ranking.
Marketplace
Most eCommerce platform users want to create multiple markets where they can sell different products through one shopping cart. Both platforms have add-ons where you can create a multi-vendor system.
Magento has beat to Shopify when we talk about the compatibility of market stores. There are more built-in promotion features like promotional pricing and bendable coupons that will take single-seller and multi-seller stores to the next stage.
Analysis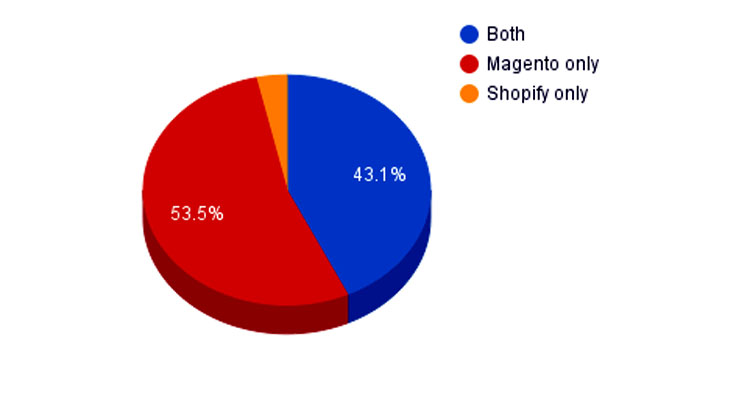 Features by Category
Conclusion
Which eCommerce platform is best for online business store or platform? And what will work best for online selling or buying? The explanation of these questions is tight. Both of them, Magento is packed with more useful features as compared to Shopify because it offers the customers advance and modern functionality in almost all sides of the eCommerce business. Magento is a customized eCommerce online platform.
Features are most important when you are selecting an online store platform. You need to reflect on the different factors of eCommerce solutions including support, development, maintenance, scaling, flexibility, integration and costs with other systems.
In some cases, Shopify is a good eCommerce platform for your business with some extra potential features. Other than that, Magento is likely better and also pack with excellent built-in features and unlimited possibilities through add-on extensions.
Related posts