10 Things That Successful People Do Every Day To Improve Themselves
Olivia, 8 years ago
7 min

read
209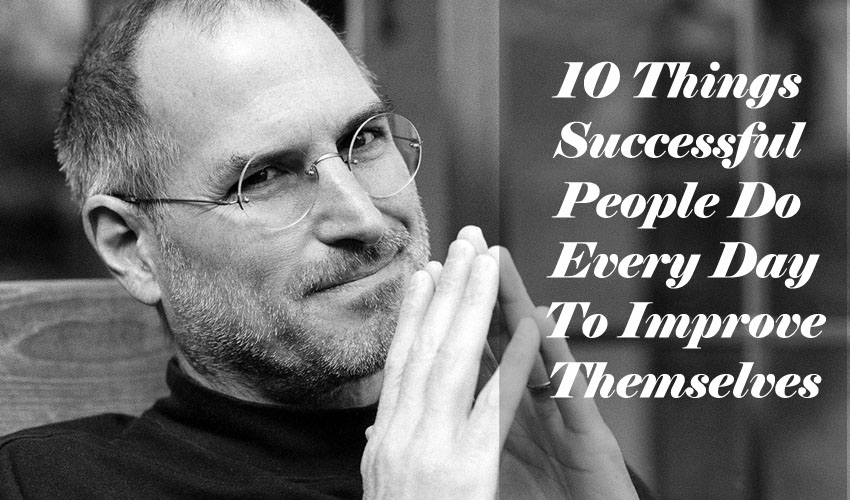 "Your time is limited, so don't waste it living someone else's life. Don't be trapped by dogma – which is living with the results of other people's thinking. Don't let the noise of other's opinions drown out your own inner voice and most important, have the courage to follow your heart and intuition. They somehow already know what you truly want to become. Everything else is secondary." – Steve Jobs
Success is something and everybody wants it. The nature of success needs ambition, inspiration, motivations and a hard work ethic. Many people do work hard for it, and many get it after little efforts, destiny is also accomplished. Achieving it is difficult sufficient, but keeping it departing is even harder. Due to that, successful people don't stop improving themselves and continually work on their active and successful habits.
Every person has different habits and attitude – they work on its improvement and try to make more successful. If you don't know successful people have which types of habits and what they do to improve themselves. Don't worry; because you come to a right place, here you can get the useful tips about the successful people habits and those things that successful people do every day to improve themselves.
1- Wake Up Early
"Morning is an important time of day; because how you spend your morning can often tell you what kind of day you are going to have."  – Lemony Snicket
Walk up early morning habit is very excellent and different researches show that our brains work most efficiently during the first 2-4 hours after we walk up. Early hours are more beneficial and productive for the majority of the people.
When you walk up early morning, you will feel vigorous, fresh and ready to conquer new summits. Successful people get up early morning and go for the ride. They perform different activities including playing games in the morning and activate their brain.
2- Exercise
"An Early morning walk is a blessing for the whole day" – Henry David Thoreau
Physical activities are important in successful life. If you think that brain plays major role to make people successful, your thinking is right, but if you think all about due to the brain, it is not fair. However, successful people do exercise on a daily basis. Morning walk is not only keeping healthy and in a good shape, but it plays major role in our success.
Constant experiences and confidence of overcoming yourself and getting new successful results are very useful for any other possibility of activity. Every successful people do exercise some are the daily basis and some spent some hours per week. For example, Mark Zuckerberg (founder of Facebook) workout five times per week with a personal coach.
"I ran three miles, staggered into the lobby, and took the elevator back to my apartment. No point to overdoing this exercise junk. –Stephanie Plum" ― Janet Evanovich
3- Have A Plan
"A man who does not plan long ahead will find trouble at his door." – Confucius
Successful people know the importance of everyday targets. It is said that Benjamin Franklin Daily asked themselves what kind things he was about to do this day. Most of the successful people follow this rule and habit.
Having a plan help you to complete your all targets and remember everything – get rid of all the things you put off with. Spend your 10 minutes before sleep to analyze your today and after wake up make your plan for the entire day. It would be even greater if you write it down in the note book, mobile or somewhere.
4- Find Time for Hobbies
Mostly see that successful people have various hobbies and interest in different activities. Like Warren Buffett, he is the biggest investor and successful entrepreneur of the 20th century, loved to play ukulele between his tough business life and business meeting. A Saturday game habit can be a great way to set up good contacts. However, even the small or alone hobbies such as drawing or knitting can help to succeed by let go free from stress or waking up one's creative side.
5- They are Active
Successful people are very active because they know the importance of active life. They join different activities and go gym or yoga class for active life. As we discuss the life of Mark Zuckerberg in exercise portion, he exercises with his coach five times a week.
Similar Anna Wintour assigned herself with a Tennis play task for an hour every day. Both are not only those have workout habit all most every successful people know the importance and must giving the some moment to active their body. The more active body is the sign of your more active brain works. By the way, the only weekend is not an omission for exercise.
6- They Learn
People always try to learn the new thing or information every day to keep the brain trained. Successful people follow this habit and learn something new by reading books, articles, and novels. They communicate with successful and smart people; they go through trusted sites, etc.
Active mind was always ready to give you new and helpful ideas about your work; that's why you should always try to active your mind. You will become successful by working own your thoughts as those people have a high regard for today.
7- Analyze Their Day
A great and excellent habit of successful people are that they were analyzing their day before going to sleep. What did I do everything I had planned today or not? If not then what I do in next morning plan? What should I improve on the next day?
When you think of the good things you did today, it helps you move on doing them tomorrow. When anybody analysis yourself and see their mistakes, they avoid to repeat them the next day. Analyzing is a magnificent idea to do at the end of the day. Successful people continuously perform this habit, because they know it is best for their success, so they follow it. If you want to achieve success in your life, you must do analysis your daily life before sleep or go to bed.
8- They Meditate
Meditate is a good habit, and it has many benefit in your life. About Oprah Winfrey said that she is the busiest women in the world, and still she manages to spend 20 minutes setting in quiet two times a day.
Even the most successful entrepreneurs, celebrities, and business people know the importance of meditation, that's why they spend some wealthy moment for it. Meditation decreases the stress level, improves productivity and mind thinking power and keeps a body and soul in shape. Spending time on meditation can help you on the road to success.
9- Spend their Time with People They Love
It is true; successful people work hard and tough routine life. However, many of them say that forgetting about their work and spending some time with those people who love them and help them continuing to work even harder.
You should not think of your work 24/7 because your mind will be too worn-out to work and to create new ideas. Being nearby people you love can make you happy and happy-go-lucky for some time, and that is a great relax for your brain.
10- Sleep the Right Amount of Time
No hard and fast rule how many hours we need to sleep daily for the good and fresh mood. We all are different because some of us can sleep 4 to 5 hours daily and feel fresh and healthy, and others need 8-10 hours per day for fresh mood.
But nobody needs to sleep like a zombie the whole day. Different researchers show that an average person need daily 7-8 hours sleep for good health. Every successful people analysis their need and know that how much time they need to have night's rest with fresh feelings, and they sleep no less than that.
Related posts