Blogging isn't hard, keeping is.
The internet world is the very crowded place. Recently, I read over 83,000 new blog posts are published every hour in the web world. So you can also be stand out with this crowd. It is possible if you have got a strategy to publish and promote dynamic content.
You can write everything because it's your blog, but if you want your blog to be flooded with traffic, you need to follow some useful strategies like 6 traffic tips to increase website traffic. One thing more important, if you think excellent content is only vital to get readers glued, it is wrong thinking, your content will be called impressive only when people read it and share it. The question is that how to get these people who read your blog remarkably.
1-Yahoo! Answers
Yahoo! Might be losing their internet market share but it doesn't lose the hold in the question and answer arena. You can imagine daily thousands of people ask the different issues and answers almost about every category. A quick search for SEO shows over 1,300 questions that can be answered.
If we asked the question from Yahoo! How we get massive amounts of traffic on the blog. The Yahoo! Answers are giving helpful answers genuinely. In its place of trying to generate a visible advertisement for your website works on flattering an authority in your business.  This technique offers more than 100 visitors.
At that time when people use a search engine for questions, you're often answered times a Yahoo! Answers result will appear near the top of the search results. By this, our website a ton of visitor if your reply commonly asked questions!
2-Guest Blogging
It is the great way to generate free traffic. Your investment that you invest in it is only your time to write an article. Always try to in touch with most influential blogs in your industry and ask if they will let you write a guest post. Most industries have no issue if other industries or people write free content for them.
If you face any trouble of finding the blog of the guest post so check out www.bloggerlinkup.com – they have a full group of people of bloggers that are ready and waiting for your content.
3-Forum Posting
You can imagine; there is a group of individuals forums system online for virtually every industry, topics, and niche. The internet is a prime place for in agreement people to talk to each other. If you can try to find any forum related to your industry you can find nine times out of 10.
Locate the forum that is related to your industry with the largest user base, start posting there and become an active group of people member. Many forums are only allowing you to leave your website post signature link, so the more you post, the more traffic you get.
4-Twitter / LinkedIn
Whenever I write new content, we should share it with social media like Twitter. If you want to get a lot of clicks or views on your post you use right keywords that make your tweet interesting. Like as, if you write an article about website design proposal I can tag the end of the tweet with #website #design #proposal, and anyone that searches for those keywords on Twitter can see my tweet. Be sure to write provocative headlines for your posts, so people feel the urge to click on them. Social Media is a large platform for SEO.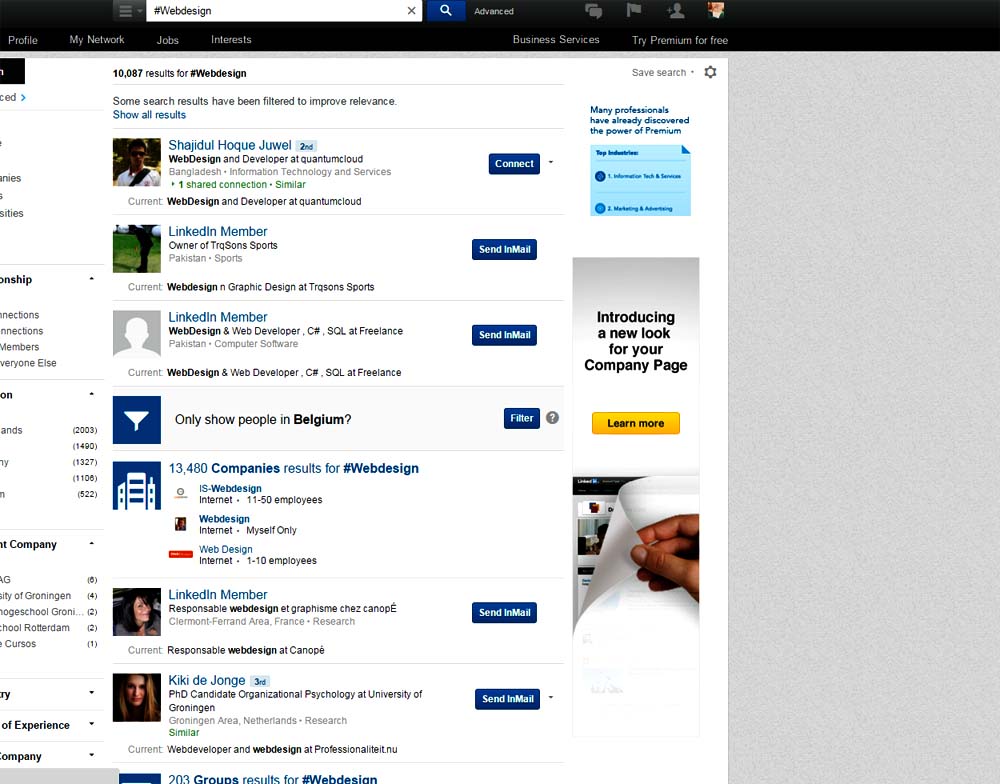 5-Facebook
Creating a Facebook page about your industry and spread its service it is very necessary for every business owner. The reason is that 1 in 13 people on Earth have a Facebook account there's no need to explain why you should be there. You create a fan page, not a group. Because groups post doesn't show up in the news feeds making it hard to get in touch with members and a fan page is free and will give you a lot more exposure to not only the current members but member's friends as well.
6-Blog Commenting
Commenting on excellent industry blog posts written by content experts that can give lots of followers and traffic to your website. When you post a comment blog, allow you to leave your site link for other visitor check out. On condition that you leave a comment, you will get traffic from your blog comments.
For more tips visit our site What Future Is again and again. Thanks!
Related posts