Are you running personal automotive-related WordPress website? Are you trying to set up a most attractive automotive marketplace?
If yes and you want, then you have got to check these 5 best car dealer WordPress themes that I've compiled in my collection that will explore below. I'm sure you won't be disappointed.
Because, a car dealership a special type of business, that's why car dealer website needs special features. This collection of car dealer WordPress themes is boosted your car sales, tracks your commissions and keeps relationships with your clients.
Furthermore, these themes are not only allowed you to list personal automobiles you've to sale: but also give your visitors this opportunity. If you allow this feature to your visitors then they can create a personal profile and upload own car to the website through the front-end user submission forms.
When you accept user profile, then they will get plenty of monetization options that you offers them.
More famous features you will find in these best car dealers WordPress themes includes easy importing of car listing. ECommerce supports for payment plans for accepting listing submissions, VIN decoder tools, advanced search tools, and plenty of customization options to guarantee your website looks the fashion that you want.
1- AutoTrade – Premium
AutoTrade theme is a premium responsive car dealer WordPress theme that offers you a marketplace where you can sell car online. This is an excellent theme that you can use for building auto motor magazine, blog or vehicle marketplace.
AutoTrade provides you some advanced WordPress features such as custom fields, custom taxonomies, and custom post types. Due to these features, you can easily capture all the data about the vehicles and cars listed on your website. AutoTrade is a good looking WordPress theme that will definitely boost your online car sales. This theme has a full-width image slider to setting your care listing.
2- Motors – Premium
A unique and responsive car dealer WordPress theme Motors for those people who want to build a website with a lot of features. Motors WP theme provides some dreamy features like drag and drops page builder and many others.
Furthermore, Motors offers you to build car dealership website or online directory with three different styles and you can select one of them. Its default style is the best offer for car dealer website and also a quick set up for online business.
No matter which style you select for WP website, you can quickly and easily import the demo comfortable into your WP website. Due to the customization option, you can customize color according to personal choice.
Other than that, Motors introduced a new feature which showcases side-by-side contrasts of vehicles. If you build your website in this theme. You can be sold merchandise and parts on your website.
This theme is fully integrated with WooCommerce e-commerce plugin, Visual Composer, Google fonts, MailChimp, PayPal, WPML.org, and much more.
3- Automotive – Premium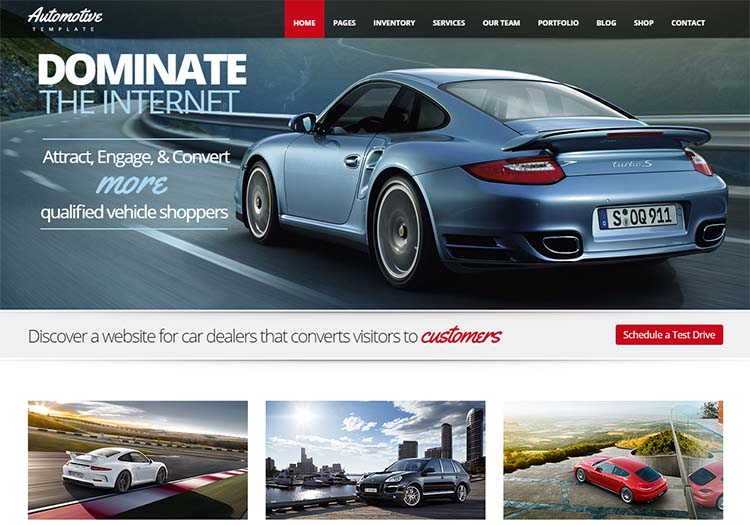 Automotive WP theme is designed for car dealers, agents, sellers, and automobile companies. It is 100% responsive theme that looking beautiful to all advanced and modern devices.
The framework of the Automotive theme is built based on the most recent bootstrap technology. Whether you're large or small car Dealer Company, you're sure that you find what you necessity in your WordPress website.
Automotive WP theme comes with unlimited color options and lets you build a site that stands out from other car dealers. It offers drag-and-drop page builder powered by Visual Composer that helps you build a sustaining layout page design with no time.
If you want a feature-packed theme that enables you to import vehicle data and build full listing from just VIN them Automotive WP theme is for you.
4- AutoDealer – Premium
AutoDealer is a feature rich WordPress theme that you can set with one-click. It is a professional theme that is best for creating a website for car dealers, auto retailers, and car sellers.
It is a flexible and customizable theme that offers you a lot of custom options. All allows you to create website according to personal demand. Its front-end submission option allows the users to edit, add and manage their listing. It fully integrates with WooCommerce eCommerce plugin.
AutoDealer is a modern WP theme that best for car listing site. It's modern and user-friendly search tool makes it troubles for your visitors to find the seller profiles and different cars.
5- AutoMax – Premium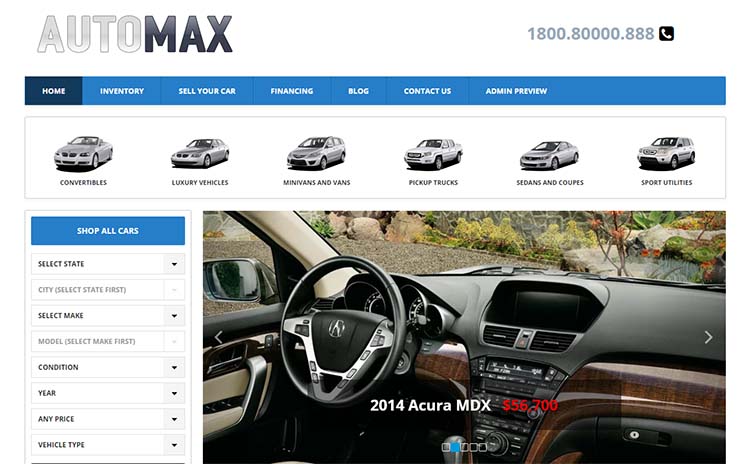 AutoMax full features packed WordPress theme help you to build a fully active auto dealership website to list and sell cars online. AutoMax comes from the Gorilla Themes with all features often you found in the best premium WordPress themes.
All features are perfect for helping anyone who wants an attractive and beautiful car dealer WordPress website. It is 100% responsive, which means your car dealership website will be able to view on tablets and smartphones.
One another AutoMax fantastic features are worth highlighting the PayPal pay per listing style. With this feature, you can monetize your site by selling advertisement ads to your visitors and then receiving paid immediately via PayPal.
As you read, all car dealer WordPress themes offer different unique and special features. So you can select one of them that you find best for your next project and start your WordPress website.
Now which theme looks more attractive to you? Let me know in the comment box below. If you already used any theme, please let me know about it.
Related posts